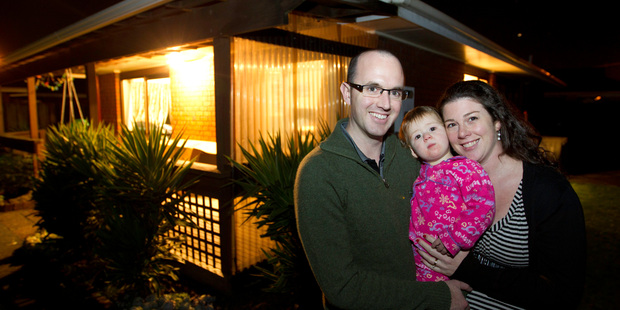 Reluctance to buy homes in Auckland's less glamorous suburbs is disappearing as the areas replace the more picturesque North Shore and city spots as the most in-demand locations to buy.
A housing shortage and less money in wallets has pushed home buyers to the city's west and southern fringes, and the the time it takes to sell a home in these areas is reducing.
Houses in Upper Harbour were the quickest to sell this time last year at a median of 23 days.
But now it takes an average 37 days to sell a house in the suburb, which has a median house price of $521,000.
The increase in time-to-sell is the biggest in metropolitan Auckland, Real Estate Institute figures show.
Homes in many city and North Shore suburbs are taking longer to sell than they did in June last year, while those in southern suburbs such as Papakura and Manurewa are moving almost twice as quickly as they did a year ago.
Western suburbs such as Henderson and Titirangi are also having a sales boom.
In Papakura, which had a median house price of $350,000, a home took about 49 days to sell last year, but the figure has dropped by 22 days to 27.
Ted Ingram of Ray White Papakura said he had a growing number of inquiries from home buyers who wanted to move south.
"It's lost its stigma to a large degree, I've found," he said. "No one's getting pay rises in the city but costs are still going up so they're coming out to cheaper housing to have that little bit extra in their pocket.
"There's a lot of stuff in South Auckland now that some people in Auckland should be envious of - employment, not so much traffic congestion, all the big stores are out here."
Mr Ingram, who auctions homes around the city, said he was shocked to see houses in central suburbs such as St Heliers, Glen Innes and Mission Bay going for record prices.
"We're not seeing that in South Auckland, we're seeing a gentle increase but nothing that frightens people away."
The area had seen a lot of development, including the shopping centre in Takanini, and the Karaka Lakes and Karaka Harbourside developments overlooking the Pahurehure Inlet which had lifted appeal.
"If you want to spend $600,000 to $700,000 on a home and live looking at the water you can do that right here in Papakura," Mr Ingram said.
"It's just like living in Mission Bay, if you like, except it's mud not sand."
Caroline and Peter Osborne bought their three-bedroom Papakura home on King Edward Ave within days of it going on the market.
The $325,000, brick-and-tile unit with a single garage has a backyard with enough room for a swing set the couple are putting up for their 18-month-old daughter Isabelle at Christmas.
"We looked at the place once, we were in the house for about 10 minutes and that night or the next day we put in an offer," Mrs Osborne said.
The couple, who are expecting their second child, rented for about two years in the nearby Conifer Grove after returning from overseas.
They both grew up in the area and say they never considered moving closer to town.
"It's more affordable than trying to live in the city and you can have a backyard and your kids can run around," Mrs Osborne said.
"You can't really do that with the apartments and these terraced houses that are going up."
Biggest decrease in days to sell
Key: median house price, days to sell in June 2012, days to sell in June 2011, increase or decrease in days to sell, how many homes sold
Papakura: $350,000, 27, 49, -22, 70
Henderson: $400,000, 29, 45 -16, 187
Devenport: $835,000, 43, 57 - 14, 28
Titirangi: $502,000, 28, 41 -13, 37
Glenfield: $459,500, 26, 35 -9, 128
Ellerslie/Panmure: $524,000, 24, 32 -8, 42
Islands of gulf: $480,000, 97, 89 -8, 17
Manurewa: $357,500, 29, 36 -7, 74
Onehunga/Penrose: $465,000, 29, 31 -2, 79
Mt Roskill: $510, 694, 27, 30, -3, 124
Mt Eden/Epson: $813,000, 30, 33 -3, 126
Papatoetoe: $385,000, 33, 34 -1, 148
Milford/Takapuna: $695,000, 33, 34 -1, 48
* Waitakeres: $580,000, 107, 25, -82, 1
Biggest increase in days to sell
Upper Harbour: $521,000, 37, 23, +14, 28
Albany: $707,000, 36, 41 +5, 71
Central city/ Pt Chevalier: $305,250, 28, 26 +2, 238
East Coast Bays: $619,444, 33, 31 + 2, 132
Birkenhead: $543,000, 29, 28 +1, 53
Eastern Beaches: $605,000, 32, 31 +1, 195
Mt Albert: $564,000, 32, 31 +1, 63
Glen Eden: $363,500, 36, 35 +1, 78
Eastern suburbs: $888,000, 37, 37, the same, 175