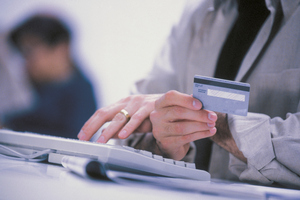 Almost two million New Zealanders are expected to use the internet for shopping this year, with a total of $3.19 billion likely to be spent online.
Internet shopping has grown by 19 per cent in the past year and a new transtasman survey has predicted that figure will continue to grow by more than 14 per cent annually over the next four years.
By the end of 2012, online shopping in New Zealand is predicted to reach $3.19 billion and to grow to $5.37 billion by 2016.
Factors driving the growth are lower prices, improved search engines, price comparison sites and a rising penetration of smartphones.
But the head of the New Zealand Retailers' Association, John Albertson, said the issue was not that online shopping was slowing traditional shopping, but that it was cutting out how much the country was earning through tax because many of the popular sites were overseas.
"Certainly a lot of the online spending will be for existing stores who've added online shopping, taking advantage of the online dollars," Mr Albertson said.
"But the goods that are sourced from offshore are coming into the country GST-free and the appropriate duty-free. So the Government is essentially subsidising overseas online retailers."
The Australian and New Zealand Online Shopping survey, released by PricewaterhouseCoopers and Frost & Sullivan yesterday, found 35 per cent of online expenditure was going overseas.
Respondents said the main reason they shopped through local and international sites was to get lower prices, followed by greater variety of goods.
The report identified a number of factors that were stimulating the growth and use of the online channel for retail purchases: consumers seeking greater value in their purchases; greater variety/choice of goods; widespread use of mobile devices; continued strength of the New Zealand dollar; an increasing level of sophistication and comfort among consumers across all age groups; the use of social media by both consumers and retailers to drive brand awareness; and the proliferation of group buying sites.
Online retail sales now make up 5.9 per cent of New Zealand retail sales, up from 5.1 per cent in 2011.
Mr Albertson said retailers needed to decide what they wanted to give their customers - cheap deals were for the internet whereas the physical shopping experience was better suited for stores.
The most popular online purchases were electrical items (65 per cent), clothing (62 per cent) and books (52 per cent).
The biggest jump was food and groceries, which are now bought online by 21 per cent of shoppers.