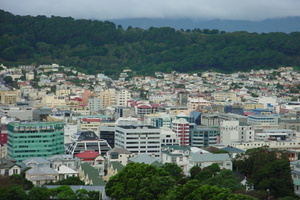 Clouds may be looming over the economy but the sun is shining for public relations consultants in the capital.
Government departments have been reducing staff to meet staffing caps, but public relations people say the work has been outsourced to the private sector.
Some of the work is going out to the same people working as private contractors.
But AUT University senior lecturer in public relations Aline Sandilands says there is plenty work for Wellington consultancies.
In March the Government said in a report that it was "concerned at the growth in numbers of communications and public relations staff employed in the public service".
"Chief executives ... should take account [of the] expectation that the number of communications and public relations advisers they employ will be reduced," it said.
According to government statistics, on December 31 last year there were 270 PR jobs in government departments, 51 fewer than in 2008, when targets were set. There are no specific rules on the jobs being outsourced.
But there were seven more full-time positions than six months previously, indicating the number of public servant PR people in departments was back on the rise.
In the meantime the Auckland PR market is being described as patchy.
Star PR closed this week after six years with the last partner standing, Alan McDonald, merging the company interests with those of Matthew Hooton's public relations company Exceltium, where he is now general manager.
PR veteran Cedric Allan had left some time ago while Malcolm Boyle left through ill-health and Jill Dryden went to Wright Communications.
McDonald said there was some movement on accounts, but in most cases PR consultancies were working very hard and overall the market was very muted. He decided to move to Exceltium.
There was some work around Christchurch and advertising spend moving to PR but overall some marketing budgets were crunched and PR contracts were vulnerable to cuts from overseas head offices.
Claudia Macdonald of Mango Public Relations said that ambient or "experiential" advertising had increasingly merged corporate reputation and public relations and was becoming a standard part of advertising.
Cedric Allan of Boag Alan Pirie said that the additional demand in Wellington was partly because of the complication of government relations under the MMP political system, where people once had to approach only one person but now had to speak to many.
Allan doubted that public relations was growing as a sector because people were being cautious about spending, but there was plenty of work.
Public relations body Prinz said that while there was plenty of work it was from existing clients and overall the sector was not growing.
ASB Bank marketing boss Roger
Beaumont said with tough budgets, big corporates were increasingly looking at value for money from employing PR people internally.
On the other hand outside consultancies often brought something special. He said that overall the market for consultancies was patchy.