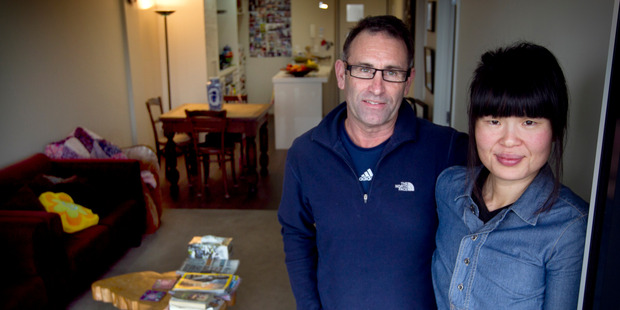 The amount paid out to young New Zealanders reaping the benefits of KiwiSaver's first-home subsidy has tripled in the past year as more people become eligible.
But as Auckland house prices hit a record median high of $500,000, new buyers may find it difficult to qualify for the scheme which includes a $400,000 cap in the city on the maximum house price.
Figures supplied to the Herald from Housing NZ, which administers the subsidy, showed the amount paid out this past year, $8.3 million, has tripled on the first year, when $2.8 million was paid out.
A total of 861 applications were approved in Auckland since the subsidies became available in July 2010.
There were 323 approvals in Christchurch and Hamilton had more first-home buyers claiming the subsidy than Wellington - 177 compared with 120.
Aucklander Caroline Lim, 37, received a $3000 boost with the subsidy to buy her first home this year with partner Brent Foster, 52.
That money, combined with $8000 Ms Lim had contributed to KiwiSaver herself, $4000 her employer put up and the couple's combined savings helped towards the 15 per cent deposit for their $388,000 apartment in Mt Eden.
They borrowed about $333,000 for the mortgage but since have learned that the building, Tawari Mews, may have to be knocked down for Auck-land's proposed rail loop.
Ms Lim, a community engagement adviser, was surprised to learn she was entitled to so much from KiwiSaver.
"Every little thing helps at the end of the day," she said. "Of course you always want more but it's great to have the option to use the scheme."
Her partner was not eligible for the subsidy, having bought and sold homes previously.
Financial commentator Bernard Hickey said Auckland was in the middle of a housing shortage and the younger generation felt locked out of the market.
He said the city leaders needed to allow developers to build on the city's fringe.
"Hamilton is a good example of a place that has allowed development on the fringes," Mr Hickey said.
"There's been a huge number of houses built in Hamilton over the last five to 10 years ... and that's because they allow their city to grow. They didn't put in place a tough metropolitan limit as we've seen in Auckland."
New Zealanders may have to start thinking about buying apartments rather than homes with backyards, Mr Hickey said.
"Most people want, when they have families, to live in a proper house. That may be something that New Zealanders need to get over."
New Zealanders became eligible for KiwiSaver's first-home subsidy scheme in July 2010.
HOW IT WORKS
* First-time buyers can receive $1000 for each year they have contributed to KiwiSaver, up to a maximum of $5000 for five years.
* Couples buying a house together can receive a combined subsidy of up to $10,000 but must not earn more than $100,000 combined.
* They have to have contributed at least 2 per cent of their income to a KiwiSaver scheme, or a complying superannuation scheme, for at least three years, and they must be planning to live in the house for at least six months a year.
* The price of the home must be less than $400,000 in Auckland city, Wellington city, Selwyn District and Queenstown Lakes District, and $300,000 in other areas.