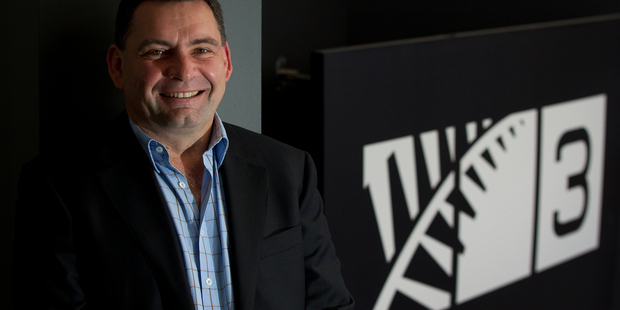 Paul Maher has taken over MediaWorks' television operations and is aiming to bring back TV3's share of the ad market.
Maher started as chief executive of television for MediaWorks last week and will be aiming to reverse his success at TVNZ where he took market share from TV3.
A former big hitting media buyer - negotiating time and space in media for advertising - Maher ran Publicis Starcom in New Zealand and was later regional boss in Asia and Canada.
He returned to New Zealand as head of sales at TVNZ and then head of sales and marketing.
He acknowledges he came home with an eye on Rick Ellis's top job as chief executive at TVNZ.
He resigned when he missed out on the chief executive role. Nobody doubts Maher's expertise in sales and when he extended his brief to cover marketing he continued that department's dominance inside TVNZ.
But the new man running TV3 and Four and digital channel C4 needs to prove his credentials overseeing production of shows.
There is a cultural, political, legal and social side to this part of the business and TV is about more than selling ads.
It's here that he will be under the most scrutiny. He is open, optimistic and ambitious with a reputation for being gruff - not unlike MediaWorks' successful past group chief executive Brent Impey.
The company has been without a TV chief executive since falling out with Jason Paris in June last year.
The old premise that TV companies have to be run by broadcasters is long gone. The question is how long will this limited role be enough to feed his ambition.
"There's some work to do on the TV3 brand," he said, citing a background in building brands.
TV3 does things that sometimes you do not expect.
The GC is an example of a show some networks would not make.
"The reality series The Block was big, brave and massively integrated, it's honest and earthy," he said.
Maher is taking over MediaWorks TV at a critical time after years of questions about its ownership and debt structure, and following programming director Kelly Martin's resignation in May.
A fight is looming to retain key Hollywood programming and group managing director Sussan Turner has warned of the dangers of Sky TV's unregulated dominance of content.
TV3 wins critical kudos for maintaining cultural relevance and a credible news and current affairs presence. However, investment sources say the Mediaworks radio arm, which includes brands like More FM, The Rock and The Edge, delivers the vast proportion of MediaWorks' operating profits, which are subsequently overwhelmed by debts held by its owners Ironbridge Capital.
But TV3 has notoriously tight budgets and television channels can haemorrhage cash if they are not carefully managed.
The company has been helped by generous taxpayer programme subsidies for hit shows like Outrageous Fortune through New Zealand On Air.
Given the potential for high drama ahead - private equity company TPG is still trying for a backdoor takeover - heading TV3 does not seem the safest bet.
Maher confirmed he "was smart enough to take due diligence" and sought reassurance on funding and budgets when he signed up with Turner.
He says he resigned from TVNZ disappointed at missing out on the top job, which went to Kevin Kenrick.
Maher decided on a future in advertising at 15 and fell into media buying. He worked with full-service advertising agencies and ran Publicis' Starcom in Asia with 800 staff in six countries, before taking over Starcom Canada.
He was head-hunted to run sales by Jason Paris, then when Paris defected to TV3, effectively the same job Maher has taken now, Maher took over TVNZ marketing.
"To be honest TVNZ was always a disconnect for me," Maher said.
"It's a commercial organisation that was always evolving but for me this [MediaWorks TV] is a clearer mandate," he said.
He will find a very different culture at TV3 than that at TVNZ.
Paris immediately clashed over a lack of autonomy and resources, and ended up at loggerheads with Turner after the terms of the role changed.
Maher agreed TV3 was "leaner and meaner" than TVNZ but he was used to that. "Most of my time has been in working with companies in low margins and getting my hands dirty."