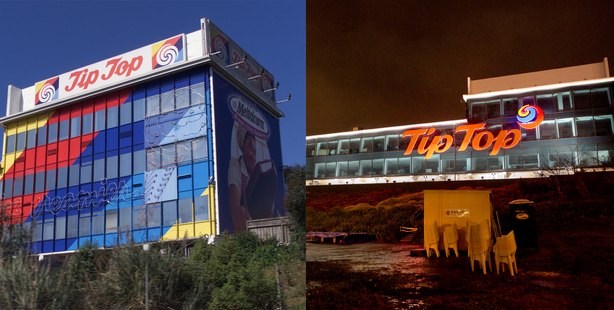 Auckland's well-known Tip Top building has swapped its bright icecream stripes for a more sophisticated look in a $40 million makeover.
Staff and special guests - including original Trumpet-girl-turned-supermodel Rachel Hunter - are to have a special breakfast of icecream and pancakes this morning to celebrate the new look.
Work began in 2010 in a bid to freshen the 50-year-old site, so well known in Auckland that the bend on the Southern Motorway beside it is known as Tip Top corner.
The rainbow stripes and colourful popsicle characters on the building's front have been replaced by a contemporary look incorporating one-way glass panels for the walls. The work environment inside has also been improved, bringing it up to date with health and safety regulations.
A huge Tip Top sign is now on the building and will be lit up at night.
General manager Brett Charlton said it was an exciting time forthe 76-year-old brand.
"Tip Top's new look reinforces our New Zealandness and pride in who we are - a company employing many Kiwis making a product that has been a part of everyone's lives since 1936."
Hunter, who shot to fame soon after her 1985 appearance in a Trumpet ad on television, is due to help light up the new building early this morning.
Mr Charlton said the celebratory breakfast was an acknowledgment of Tip Top's special relationship with New Zealanders.
"Lots of Kiwis would be able to dig out an old baby photo which captures the moment they ate their first icecream ... on a hot summer's day - it's a quintessential picture, a Kiwi tradition."