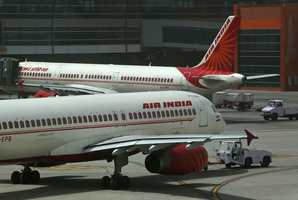 Air India, the state carrier that got a government bailout to avoid bankruptcy this year, is planning its biggest bond sale to refinance costlier debt as it prepares to add Boeing's Dreamliner to its fleet.
The airline is offering 74 billion rupees ($1.6 billion) of 19-year notes at a maximum rate of 9.5 per cent, said a statement on its website.
It issued 20-year securities at 10.05 per cent in September 2011. Benchmark five-year bond yields for AAA rated Indian companies fell 27 basis points this year to 9.25 per cent as central bank Governor Duvvuri Subbarao cut interest rates for the first time since 2009 to arrest an economic slowdown. Similar US rates dropped 20 basis points.
Air India is banking on debt guarantees and almost US$6 billion ($7.5 billion) in government cash injections to revive a business that has made losses since 2007. It is modernising its fleet to save up to 20 per cent in fuel consumption, attract passengers and open routes only profitable with newer planes.
"The sale will help Air India replace high-cost borrowings with lower-interest debt," R.K. Gupta, the New Delhi-based managing director of Taurus Asset Management, which oversees the equivalent of US$679 million, said. "It will find takers because of the government guarantee. Public-sector banks and insurance companies will be particularly keen to bid, as they always seek long-term paper."
The Mumbai-based airline is boosting borrowings to expand operations as CAPA Centre for Aviation, an industry consultant, predicts India's air traffic will grow 10 per cent this year.
The company is raising US$195 million in loans from Standard Chartered to pay for the first two Dreamliner aircraft, said a statement in March.
It also plans to borrow, with its unit Air India Charters, an additional US$600 million overseas, said tender documents on its website.
Government backing is helping Air India access funds while privately-owned rivals are short of cash even after shuttering some services. Billionaire Vijay Mallya's Kingfisher Airlines has been seeking funds since at least November after more than 10 straight quarterly losses that prompted a cut in daily flights to 120 in March from about 340 last year. Jet Airways (India), the nation's biggest carrier, is looking to sell or lease out surplus aircraft to reduce debt after facing losses for five quarters because of fuel costs and a price war.
- Bloomberg