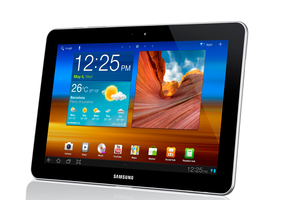 Apple's claims that the Galaxy Tab by Korean rival Samsung "slavishly copies" the iPad have been rejected by a British High Court judgment.
There was some consolation for Apple, however, after the judge ruled that Samsung's designs were "not as cool" as the iPad.
"They don't have the same understated and extreme simplicity which is possessed by the Apple design," Judge Colin Birss, QC, said. "They are not as cool."
The case is part of a bitter, worldwide intellectual property row between Apple and makers of smartphones and tablets that run Google's Android mobile operating system.
The court found two main differences between Samsung's tablets and the iPad. First and "most significant", Galaxy Tabs were much thinner than Apple's designs, which were "about twice as thick as the Galaxy Tabs".
Second, the detailing on the back of Samsung's designs made them unusual in the tablet market.
"When I first saw the Samsung products in this case I was struck by how similar they look to the Apple design when they are resting on a table," he said. "They look similar because they both have the same front screen. It stands out."
But he said "informed users" would be able to spot the difference.
Samsung, maker of the biggest rivals to the iPhone and iPad and a major supplier of parts for them, welcomed the ruling and accused Apple of "ongoing efforts to reduce consumer choice and innovation in the tablet market through their excessive legal claims and arguments".
"The court found the most vivid differences in the rear surface design, a part that allows designers a high deg-ree of freedom for creativity, as there are no display panels, buttons or technical functions," a spokesman said.
The defeat is Apple's second at the High Court in less than a week. Last Thursday it lost a dispute over "prize" technology patents to HTC, the Taiwanese Android manufacturer. The court found the patents were either invalid or that HTC had not infringed them.
Apple wouldn't comment on the judgment, but repeated earlier claims that Samsung's new products "look a lot like the iPhone and iPad" in many key ways. Apple still has design infringement claims against Samsung in American and German courts, and has 21 days to appeal the British ruling.