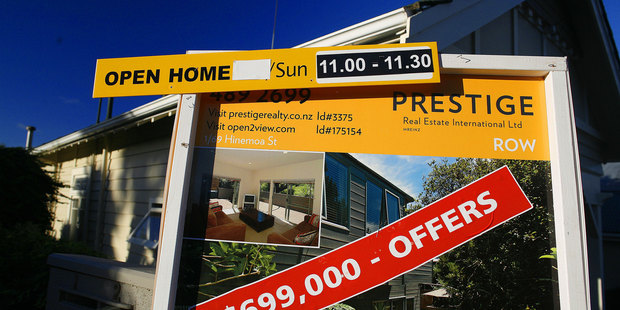 June was a good month in the New Zealand property market, with sales up 17.3 per cent from the same month last year. Prices have continued their steady rise, up 3.3 per cent for the 12 months to June.
Real Estate Institute data released this morning shows 6,135 unconditional sales in June, up 906 from the same month last year. Sales were down 14.5 per cent from the month before, but seasonal variation account for much of this decline.
The national median house price rose by $3000 to $372,000, a new record high, rising $2000 above the previous high set in March this year. The national median house price is up 3.3 per cent compared to June last year, with Auckland maintaining the $500,000 record median set last month.
Sales in the Canterbury/Westland region were up almost 56 per cent, followed by Northland with 39.1 per cent and Hawkes Bay with 25.6 per cent.
Auckland's sales volume increase over June 2011 was 15.7 per cent. Taranaki was the only region that recorded a fall in sales volume compared to June last year.
The REINZ Stratified House Price Index, which adjusts for some of the variations in mix that can impact on the median price, is 5.3 per cent higher than June 2011 and is now also at a new record high.
"Keen buyer interest in Auckland and Christchurch - which together make up about half of national activity - drove the New Zealand real estate market to new highs in June and a new record median price," said REINZ chief executive Helen O'Sullivan.
"The overall pattern for the rest of New Zealand shows improvement in sales volumes, with prices on the whole steady rather than up," she said. "The constraint across the country appears to be shortage of properties available to meet buyer demand. This is most acute in Auckland, where new home building is still sluggish, and in Christchurch where the earthquake recovery is slowly getting under way."
Helen O'Sullivan cautioned that the apparent strength was still far from reaching the boom years of the mid to late 2000's.
"Buyers and sellers lost confidence during the global financial crisis and in that context the current the market should be seen as recovering rather than 'booming'." she said.
Westpac Bank economists have published their analysis of today's REINZ figures.
"This month's data was a continuation of recent themes - the market is quite tight by the standards of recent years, although this is nothing compared to the boom years of 2003-2007," said bank chief economist Dominick Stephens.
"Prices are gradually and persistently rising. And the upturn is broadening beyond just Auckland and Christchurch," he said.
The seasonally adjusted number of sales dipped slightly relative to the very strong month in May. However, seasonally adjusted sales remain higher than in March this year, and 17 per cent higher than a year ago. The average number of days that a house sits on the market before selling ratcheted down another notch, consistent with anecdotes suggesting that houses for sale are in short supply, said Stephens.
"The strongest gains in sales this month were made in Northland, Waikato, Hawke's Bay and Nelson, while seasonally adjusted sales actually fell in Auckland, Wellington and Christchurch."
Stephens referred to the stratified house price index, which showed Auckland prices were up 7 per cent compared to a year ago, while the rest of the North Island is up only 2 per cent.
"Similarly, Christchurch prices are up 9 per cent in a year, while across the rest of the South Island prices have risen only 5 per cent. That said, the latest monthly price movement showed more strength outside of Auckland and Christchurch. Averaged across New Zealand, prices are now 5 per cent higher than a year ago."
Goldman Sachs NZ economist Philip Borkin said that although annual house price growth was now positive in every region, only Auckland and Christchurch were above the previous peak.
Borkin said that turnover had been volatile over recent months and he wondered if there had been a change in the seasonal pattern that had impacted the seasonal adjustment process. "On a three-month average basis, monthly turnover is effectively flat compared with May," he said.
"Like the Barfoot & Thompson Auckland house sales data released last week, nationwide sales turnover dipped in June and may be seen as a weak result. However, we still see reasonable momentum given the shorter period of time to sell properties and the further lift in house prices," said Borkin.
"This price appreciation is most evident in Auckland and Christchurch, where house prices are back at new record highs. However, we note that all the regions within the REINZ HPI (house price index) are now recording positive annual house price growth suggesting a broadening in market strength. "
Borkin said that recent cuts in fixed mortgage rates were likely to have supported market activity and the tight inventory situation, particularly in Auckland, was also likely to be contributing to house price strength.
He thought it unlikely that there would be further meaningful falls in mortgage rates. But he was still looking for a "reasonable level of housing market activity" to continue.
"Underlying momentum in the nationwide housing market continues to improve," said Borkin.
Commenting on the REINZ data, ANZ senior economist Mark Smith said the market "paused for breath in June" following the strong May surge in house sales.
"There remain considerable tensions, with a low supply of available homes underpinning price rises."
Housing market activity remained reasonably low, with housing turnover around 13 per cent below historical averages as a portion of the housing stock, he said.
"However, this compared to a 35 per cent gap at the start of last year."
For now, the Reserve Bank will remain content to remain on the sidelines, Smith said.
"While the strengthening housing market will not surprise the RBNZ, the Bank will be hoping that it slows on its own accord and that the flow through to consumer spending remains modest."
-NZ HERALD ONLINE