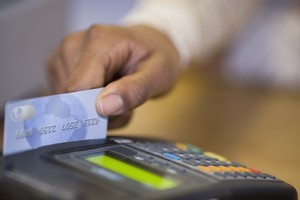 Canterbury reported the fastest electronic spending growth in New Zealand during June, according to Paymark figures out today.
A total of $404.1million was spent across the Paymark network in Canterbury last month, compared to $378.5 million last June.
This is a 6.8 per cent annual growth rate, well ahead of the nationwide rate of 5.1 per cent. South Canterbury sat just behind with annual growth of 6.7 per cent.
Paul Whiston, head of sales and marketing for Paymark, said after a sharp drop in Canterbury's spending following the February earthquake last year, June's result was a heartening sign that the region may be showing signs of a recovery.
"While spending in Canterbury is currently running well above earlier years, it's important to note that spending in the region is perhaps still five to ten per cent behind where it may have been without the earthquakes."
In comparison to Canterbury, Auckland saw total card spending rise from $1,405.8 million last June to $1,483.6 million this June, a growth rate of 5.5 per cent.
Whiston said first-half year spending through the Paymark network nationwide in 2012 was 12.2 per cent higher than four years ago, at the onset of the Global Financial Crisis.
"If you compare that with the growth since 2008 in the Canterbury region, it sits at just 4.4 per cent."
Auckland/Northland's four-year growth was much higher at 14.8 per cent, and Wellington saw growth of 9.3 per cent since 2008.
"This suggests that there's still a way to go for the region to catch up, and after visiting Christchurch last week and speaking to several business people, there are still some sectors doing it tough," Whiston said.
Paymark figures also showed that across the nation, non-fuel spending increased for the third consecutive month once seasonal factors were taken into account.
Whiston said this was no doubt in part due to the lower petrol prices over the month.
Many parts of the hospitality industry saw accelerated spending in June, with cafes and restaurants reporting an annual growth of 9.3 per cent.
Clothing shops also had high annual growth of 13 per cent.
Many building related merchants again reported higher spending, with home decorating and hardware stores up 7.2 per cent.
Annual growth among travel companies was at 2 per cent.
Nationwide, the number of card transactions in June was 4.5 per cent higher than a year ago, with credit card transactions (up 6.6 per cent) continuing to grow faster than debit cards (up 3.9 per cent).
Paymark processes about 75 per cent of electronic transactions in the country.