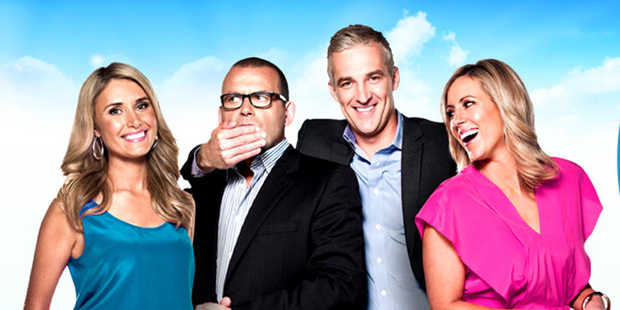 The struggling Australian breakfast television show fronted by Kiwi broadcaster Paul Henry has suffered another blow with the departure of its executive producer.
Majella Wiemers is leaving the Ten Network's Breakfast less than five months after it went on air. She will be replaced by former TVNZ staffer Sarah Bristow.
Wiemers' departure comes only days after Henry's co-host Andrew Rochford left the show, Australia's Mumbrella media, a marketing and entertainment website, reported.
Henry is now hosting alongside Kathryn Robinson and Magdalena Roze.
Breakfast has languished in the ratings behind rival network shows Sunrise and Today since it started screening in February.
Henry and Ten Network news boss Anthony Flannery, also formerly of TVNZ, were unavailable for comment when approached by the Weekend Herald yesterday.
Some Mumbrella readers seized on news of Breakfast's latest departure to attack Henry, who gained notoriety for comments he made on New Zealand television about former Governor-General Sir Anand Satyanand, Indian politician Sheila Dikshit's name and a female environmentalist's moustache.
"The choice of talent, ie, Henry, was an unbelievable miscalculation," one reader said.
"How they thought he was going to have any sort of rapport withthe Australian public I'll never know."
Another said: "Get rid of the nasty guy with glasses and ratings may rise."
But one reader stuck up for Henry, calling him a "great talent".
"Rather than producing another beige breakfast show with a couch and a massive cast, why not just have Henry and one other person at a desk reading the news?"
Last month Henry admitted to Mumbrella he was finding it frustrating working with an inexperienced team.
"Where do I begin? You want everybody to be on the same page at the same time.
"I'll call for shots and I can imagine there are 20 people in the control room thinking, 'Why didn't that arse tell us what he was going to do?'."
In May, Flannery told The Diary it would take time for Breakfast to gain traction.
"I've always said it would take up to six months to settle Breakfast into its format, and much longer than that to become No 1 in such a congested, competitive and fragmented market. We are fully committed to the programme, and Paul - as always - is doing a great job."