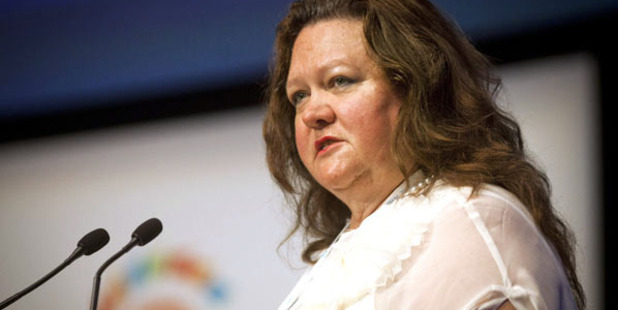 Australia's richest woman, Gina Rinehart, has reduced her stake in Fairfax Media, offloading more than 86 million shares.
Rinehart sold 86.5 million shares worth A$50.1 million ($64 million), reducing her stake in the company to 15 per cent, to an Australian fund manager yesterday. The sale comes amid a stand-off between Rinehart and Fairfax over her push to join the company's board.
"The sale was completed to resolve an issue that arose concerning the directors' and officers' insurance policy, in the situation of a director having a greater than 15 per cent shareholding in Fairfax," Rinehart's private company, Hancock Prospecting, said.
Even with her reduced holding, Rinehart remains the largest single shareholder in Fairfax.
She had demanded three board seats in return for her stake in the company and concessions on editorial independence, including the ability to hire and fire editors.
She was using her sale of Fairfax shares as proof of her push for board seats and not for control of the company, the Australian reported.
Hancock Prospecting said in a statement after the ASX closed that it was continuing to monitor the performance of its investment in Fairfax, "noting that the shares are trading at record or near-record lows, which is an independent assessment of the [Fairfax] chairman's performance.
"We also deny unsubstantiated rumours spread by others that we are about to 'make an offer' for the company, when we previously stated we are not seeking control of Fairfax, just the appointment of two directors plus an independent out of up to 12 directors on the board."
- Agencies