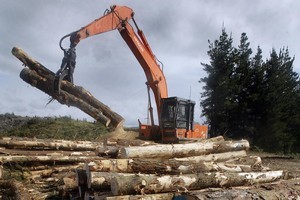 The Chinese year of the dragon is proving a lucrative one for growers of high-quality radiata logs.
The year is regarded as being an auspicious time to have a baby, which is boosting demand for quality New Zealand radiata pine for the manufacture of cots for babies.
Forest Owners Association chief executive David Rhodes said prices for high-quality pruned radiata logs were running 50 per cent higher than those for similar logs from unpruned trees.
"Cots for year-of-the-dragon babies [this year] are a major driver of this, along with furniture fashion trends generally," he said.
In China, as elsewhere, the preference was for furniture made from light-coloured, knot-free timbers, he said. Wood from pruned NZ radiata was ideal.
"Prices for quality pruned logs are higher than they have been for years, whereas prices for the unpruned logs that make up ... about 80 per cent of the crop are back about 15 per cent on the market peak in 2010," Rhodes said.
For a range of reasons, some of them temporary, world markets were awash with unpruned softwood logs and this had put a dampener on the market, he said.
In contrast, Chinese importers wanting appearance-grade logs had few supply options.
Top-grade pruned logs, debarked and treated to prevent sap stain, are now about US$150 ($186.89) a cubic metre loaded on the ship - about US$50 more than the equivalent unpruned logs.
Rhodes said large areas of plantation were now coming forward for harvest where little of the crop had been pruned.
- APNZ