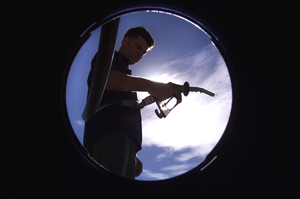 The price of petrol fell six times during June, the most consecutive price cuts since 2008.
The price of a litre of 91 octane fell 19 cents during the month, down to $1.97 a litre in the main centres, the first time it has dipped below $2 since last August.
The price of diesel fell five times, and 13 cents, to end the month on $1.41 a litre at most outlets.
AA PetrolWatch spokesman Mark Stockdale said the decreases were caused by ongoing falls in global commodity prices and a stronger Kiwi dollar.
"The run of price cuts is a welcome reprieve from near-record fuel prices, and comes just in time for the school holidays. The AA calculates the average motorist will be saving about $9 per fill of 40 litres compared to just over a month ago.''
But Mr Stockdale said the importer margin - the difference between retail price and costs and taxes - has been well above average since commodity prices began falling in March, meaning the reductions had not been fully passed onto motorists.
According to AA PetrolWatch, by the end of June the imported cost of fuel had fallen 26 cents a litre since mid-March and retail prices were down 23 cents.
At the same time diesel commodity prices had fallen 19 cents a litre, with retail prices dropping 16 cents.
- APNZ