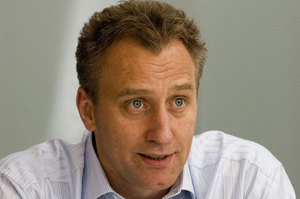 Former NZX chief executive Mark Weldon is $12.5 million better off after selling shares in the stock exchange operator that he had acquired through the company's executive share scheme.
In a disclosure notice to the NZX, Weldon said he had sold 9.5m NZX shares, or 3.7 per cent of the company, for $12.5m, equating to an average sale price of $1.31, in a transaction that took place last week. NZX shares closed today at $1.36.
The disclosure notice said the number of shares sold reflected the fact that the company had gone through a one in 10 share cancellation, followed by a seven-for-three stock split, late in May, which increased the number of NZX shares on issue.
It is understood Weldon, who was in charge of the exchange for 10 years, still retains a stake after leaving the company in May.
Weldon has been replaced by Tim Bennett, who had been working as a business consultant in Singapore.
Soon after leaving NZX, Weldon, became a director of NZX-listed Diligent Board Member Services. Last year, he bought a Central Otago vineyard business.
- APNZ