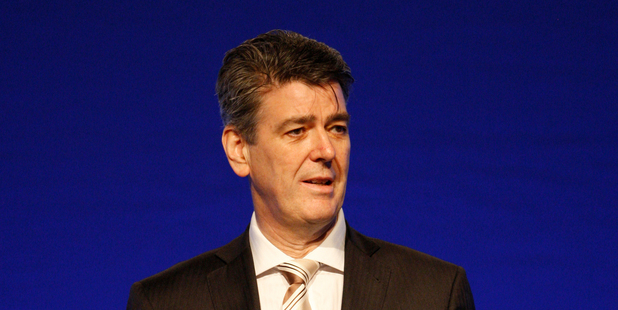 School's out for Telecom boss Paul Reynolds, who leaves the company today after taking it through an unprecedented transformation.
The 55-year-old Glaswegian - who has likely earned close to $20 million during his reign at Telecom - has given no hint on where he is headed but indicated this year that his next fulltime role is unlikely to be in New Zealand.
"All he has said about his future plans so far is that he will go for a long holiday at the beach," a spokesman said last night.
Although the boss of one of the country's biggest public companies refused to give media interviews this week, commentators have given him a glowing report card.
The outgoing chief executive helped improve Telecom's standing both with the public and politicians, says First NZ Capital's Greg Main.
"He gave Telecom a different face, I'm sure that's part of the reason why they could get a deal done [over ultra-fast broadband]," Main said. "I'm sure he helped improve the public standing of Telecom during that period ... he always came across as being very personable and very reasonable."
IDC analyst Glen Saunders, who worked at Telecom until last December, said Reynolds was an engaging leader who spent a lot of time communicating about where the company was going.
Some of Reynolds' early decisions around fibre investment were expensive for the company, but may have helped position Telecom to win the bulk of the Government's ultra-fast broadband (UFB) contracts, he said.
"It was quite a big call to make ... in some ways it was quite a ballsy decision."
Under Reynolds' watch Telecom went on to successfully spin off its network arm Chorus as a separate public company. This move - one of New Zealand's biggest corporate shakeups in decades - transformed the company into a standalone retailer.
Since the split, Saunders said the challenges facing Telecom "are much more manageable than they were" and had freed the company from the regulatory risk that had dogged it in the past.
When Reynolds took over from Theresa Gattung half a decade ago, Telecom was in a very different position.
In 2007, fund manager Simon Botherway of Brook Asset Management said the degree of government interference in the company meant Reynolds' job would be taller than his 2m-plus frame.
One of the bigger challenges Telecom grappled with during Reynolds' reign was the major outages on its XT mobile network.
As well as embarrassment and bad press, the failures saw Telecom dish out $5 million in compensation to customers.
In the aftermath, Reynolds appeared on television in fly fishing gear in an attempt to revive XT's reputation. Saunders said this media stunt summed up Reynolds' character.
"[It showed] he takes issues seriously, but can also have a wee joke about it."
Reynolds also presided over the company during its ill-fated "Abstain for the Game" campaign, although he insisted he did not sign it off.
In this abstinence campaign, Telecom planned to run adverts asking fans to support the All Blacks by avoiding sex during last year's Rugby World Cup.
The marketing ploy earned Reynolds undue attention at Telecom's last set of full-year results, much to the Scotsman's agitation.
Over the past five years there has also been criticism of the chief executive's pay packet. Between 2008 and last year, Reynolds collected $16.3 million in remuneration and benefits.
This figure does not include this year's pay, or whatever golden handshake Reynolds receives.
Shareholders Association chairman John Hawkins said he expects Telecom to release details of Reynolds' leaving bonus either today or early next week.
Challenges after Reynolds
Telecom has challenges to address after Paul Reynolds departs and its new chief executive, Simon Moutter, takes over, according to IDC analyst Glen Saunders.
The company will still be dealing with the aftermath of its split with Chorus, which will take some time to complete.
Furthermore, despite the opportunities for Telecom of entering into a fibre-based world, the move could also present some issues, he said.
Moutter, who is currently chief executive of Auckland International Airport will take over the role on September 1.
He has previously held senior roles at Telecom. Before that he was chief executive at Powerco.
Chris Quin, the head of Telecom's information technology arm Gen-i, took over as acting chief executive at the start of this month, with support from Reynolds.