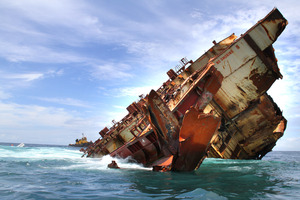 Two legal firms are preparing a class action lawsuit that could end up being the country's biggest environmental claim.
North South Environmental Law in Auckland, assisted by Holland Beckett Lawyers in Tauranga, has identified 150 claimants affected by the Rena grounding - and expects to add more in coming weeks.
The claimants, all business owners, will become part of a joint lawsuit to bring proceedings against Greece-based Rena owner Daina Shipping Co.
Individual claims from Bay businesses currently range between $20,000 and $250,000.
The class action is understood to be the biggest negligence-based environmental claim in New Zealand, only outdone in size by class actions against finance and investment companies.
Legal representatives for Daina Shipping Co could not be contacted for comment.
Robert Makgill, an expert in law of the sea and co-director of North South Environmental Law, was approached by a number of Bay of Plenty businesses after Rena hit Astrolabe Reef on October 5 last year.
Mr Makgill told the Bay of Plenty Times that as his list of affected clients grew, he engaged local Tauranga firm HOBEC two months ago, to help with proceedings by being the "face'' of the claim and helping assess claims against Daina Shipping Co.
Holland Beckett Lawyers has now launched an advertising campaign in the Bay of Plenty Times to notify affected businesses of the pending court action.
"This story is not about the lawyers,'' Mr Makgill said.
"It's not about the experts. It's about the businesses. There's so many stories that people need to hear about. A lot of the claims are very strong and I think there's a good chance of success.''
Mr Makgill is also preparing two separate claims against Daina Shipping Co for two iwi, one of which is Ngati Awa, the recognised statutory iwi for Motiti Island.
The class action had so far resulted in 150 businesses being assessed and many others were waiting to see whether they had a claim or not. Legal costs to businesses were still being worked through, but Mr Makgill said there was a view to keeping costs at zero or minimal.
"This is very much a public interest issue and something needed to be done,'' he said. "It's an action that represents the community.''
Proceedings would not be lodged until Holland Beckett Lawyers was satisfied all businesses that had lost money because of Rena had had an opportunity to take part.
"Don't be put off by thinking your claim is too small,'' Holland Beckett Lawyers solicitor Jeremy Sparrow said. "Together the claims add up.''