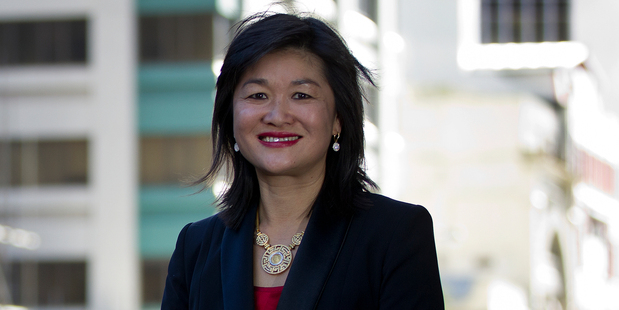 Prominent Wellington lawyer Mai Chen is joining the northward drift to the "business end" of the country and setting up shop in Auckland.
Co-founder of public-law firm Chen Palmer, the Taiwanese-born Harvard graduate is shifting after two decades of working in the capital.
"I'm flying up here so much that it makes me think that the time is right, there is so much more opportunity," Chen said.
"Seventy per cent of our clients are in Auckland. Wellington has always thought Auckland was very important, but it's growing in importance. It's the business capital ... there's a lot of energy and a lot of ideas up here."
Chen said she was increasingly doing more work with Asian businesses as well as entrepreneurs, who "tend to congregate in Auckland".
"It's difficult to say that I'm leaving Wellington because my firm is down there and I'll be flying down there a lot. But I also think it's important to move where the energy and business is really coming from," she said.
One of Chen's specialties is public law - informing clients how to engage with the Government and navigate regulatory risk.
For business, this means helping "the boat go faster" but also learning how to use the Government to get ahead.
Although the 18 lawyers at her firm will remain a stone's throw from the Beehive, Chen said she was looking to establish an office in Auckland.
"I envision that the office in Auckland will be just as big [as Wellington]," she said.
"2014 is Chen Palmer's 20th anniversary and I want to finish the vision - [which] was always that I would end up [in Auckland]" .
Chen founded her firm in 1993 with former Prime Minister Sir Geoffrey Palmer, who left in 2005 to become president of the Law Commission.
Chen will work initially from her seven-bedroom home in Remuera .
She will be joined by her husband, son and pet dog Socrates by the end of the year.
The lawyer's move to Auckland is part of a trend that has seen business flock to New Zealand's biggest city over the past decade.
Perhaps the biggest shift of recent years was Telecom moving its head office to Auckland from Wellington in 2009.
At the time a company spokesperson justified the manoeuvre by saying Auckland was New Zealand's "commercial and economic capital".
Auckland Chamber of Commerce chief executive Michael Barnett said although business gravitating to the city was nothing new, the pace of it was "probably starting to lift".
"You have an appreciation from major companies that if they're going to be in the mix they've got to be in Auckland.
"Of course that means the support services, whether it's consultants, lawyers accountants and so on, they're going to be in Auckland as well," Barnett said.
Barnett believed the shift was not necessarily a "hollowing out of Wellington" but said there was no longer a necessity for head offices to be "centred around the seat of Government".
As well as business, Barnett said the Government was also expanding into Auckland.
"They're in the same situation, whether it's the [Ministry of Economic Development], the Ministry of Science and Innovation or Foreign Affairs and Trade, out of Auckland is where New Zealand's business is."