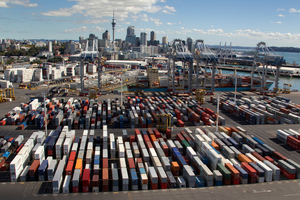 Confidence among exporters has slumped over the past year in the face of a strengthening kiwi dollar, a deteriorating global economic situation and rising fuel and raw material costs, a survey has found.
According to the DHL Export Barometer, only 51 per cent of exporters are confident they will see an increase in orders over the next 12 months.
That is a 19 percentage point drop on last year's survey, when 70 per cent of exporters were confident about growth, DHL said, adding that the confidence levels this year were the lowest in the survey's eight-year history.
"While the survey result is lower than previous years and indicates difficult trading conditions in the first part of the year, there's still some optimism." said Tim Baxter, country manager for DHL Express New Zealand.
"Half of exporters anticipate growth in the next 12 months."
The survey said the main negative factors impacting on exporters in the past year were exchange rates, rising fuel and raw material costs, overseas economic and political conditions and international competition.
"There are numerous factors contributing to difficult exporting conditions," Baxter said.
According to the survey, Australia and China were considered the biggest competitive threats to exporters in this country.
Just over 50 per cent of exporters perceived Australia and China as a threat, with China seen as highly competitive by local manufacturers.
"It is understandable how China can be perceived as an opportunity and a threat," Baxter said.
"China represents a tremendous opportunity for New Zealand exporters, but it's a big exporter itself, therefore competing with New Zealand in other export markets."
Baxter said the response about Australia was "more curious".
"Australia produces some similar commodities to New Zealand and is obviously a close neighbour," he said.
"It may be because there is increased economic uncertainty that potential competition is being felt more keenly."
The DHL Export Barometer surveyed 324 exporters.