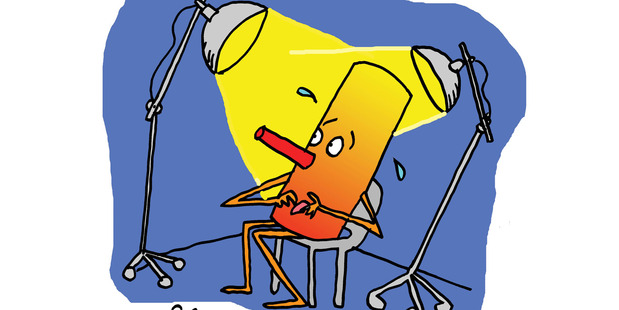 In days past, having your photograph in the newspaper guaranteed that shopkeepers trusted your cheques.
"Don't bother filling in the details, we know who you are," retailers would say with a wink.
So when media curiosity intruded again recently, before accepting further publicity I forgot to ask myself, how many cheques do I write any more?
The recent interest in our personal lives is odd.
After all, we're just an old-fashioned nuclear family, long married, with two children, a mongrel dog and a few goldfish. What's more humdrum than that?
The latest round of attention started when a fellow hack sought an interview for this newspaper.
I presumed, knowing the writer's somewhat caustic, opinionated style, that I'd be subjected to what George Puttenham aptly described in his 1589 work, The Art of English Poesie - as "The Drie Mock".
Journalists traditionally tend to be harder on those who share the profession, and I fully expected an edgy slagging from an essayist not noted for idolising those on the other side of her interviews.
Following publication I received calls from indignant readers suggesting I'd been unjustly portrayed.
"Whatever," I responded, having long ago accepted that media attention is a double-edged sword.
Filming for television this week has proved more curious.
The producer arranged separate interviews for the caregiver and myself, facing floodlights in darkened rooms, like criminals being questioned by Mr Plod seeking discrepancies in our evidence.
I found myself facing a morbidly obsessed presenter constantly interrupting my responses about trivial incidents from many years ago: "That's not how your wife recalls the occasion," he kept repeating, clearly wondering if dementia had overtaken me.
Comparing notes with the caregiver, I suspect the production is only interested in the salacious domestic minutiae of what's it like for a 30-something to be stuck with an old fossil.
I found myself fielding puerile questions like: 'Was a youthful bride a trophy to satisfy your vanity?'
No doubt I'll be dished-up on the telly as a modern-day Svengali who lures young, celestial virgins into abject slavery (I wish).
So, if being interviewed is so ghastly, bemused readers might ask, why allow yourselves to be subjected to such indignity?
The answer's simple. I'm also in the media business, and need fresh fodder to write about weekly, especially when I sniff comedy in the air.