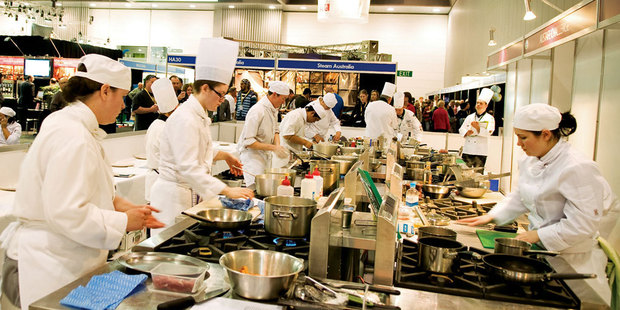 A growing passion for consumer fine dining has led to a boom in the New Zealand food sector, says the organiser of several major food events.
Kiwis have become more demanding and sophisticated when it comes to food, largely due to the rise in popularity of cooking shows like Masterchef, said Dona White, CEO of North Port Events
"Restaurants, cafes and anyone in the food service and hospitality sector will notice the rise in popularity of consumer fine dining," White said.
"People are much more discerning and are willing to try more and more international fare."
New Zealand is producing a growing number of specialty foods, which is helping us carve out a place in the global market, she said.
According to New Zealand Trade and Enterprise, there are now more than 2,000 specialty food and beverage manufacturers in New Zealand.
Export earnings have leapt from $2.9 billion in 1990 to $8.7 billion in 2006.
Overall, food and beverage exports have increased from $6.96 billion in 1990 to $21.43 billion in 2008.
White said she noticed a change in New Zealand's approach to food in the late 1990s, when we "caught the bug" for fine food. Gone are the days of powdered mashed potato, she said.
New Zealand has now built a reputation as being a country which serves top quality, affordable food and the overall standard here is consistently high, White said.
"When I travel throughout New Zealand, I find people are stepping up to the plate. We're blessed with great produce, equipment and support around the industry.
"Tourism is so important to us and we don't have the population that gives us the time to be complacent. If you want to be complacent you aren't going to make it."
White founded North Port Events in 1993 and the company now stages the Food Show, Fine Food New Zealand, and the Healthy Living Show.
The Fine Food show, which runs from June 17-19 in Auckland, is a trade show featuring 300 exhibitors of specialty foods, perused by buyers from around the country.
White said the show is primarily aimed at boosting the domestic market but there has been an influx of international exhibitors this year who recognise the surge in demand for international dining.
A South American contingent will be showing off their wine, local Yerba-Mate tea and caramels.
Figures from the inaugural Fine Food New Zealand show in 2010 showed 92 per cent of visitors discovered new products of commercial interest.
Leads generated at the show amounted to $11.6 million, or $66,000 per exhibitor.
Many Kiwis are also now into experimental cookery at home, entertaining guests while showing off their culinary prowess, White said.
"It's good clean fun to have people over and share food."
White, who is known for spotting gaps in the market, will also run her inaugural Healthy Living Show in Auckland later this year.