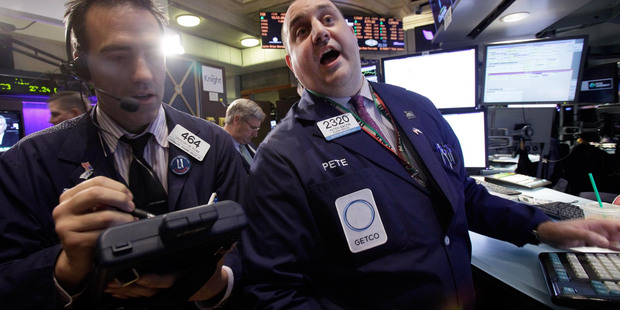 Signs of tepid growth in the US economy and ongoing concern about Europe's debt crisis weighed on equities on both sides of the Atlantic, and underpinned demand for Treasuries.
The latest data on the American economy support the case for the Federal Reserve to lend a helping hand to revive the pace of growth. Retail sales declined for a second straight month in May, while wholesale prices posted their largest drop in three years.
In late afternoon trading in New York, the Dow Jones Industrial Average fell 0.49 per cent, the Standard & Poor's 500 Index slipped 0.42 per cent and the Nasdaq Composite Index declined 0.31 per cent.
In Europe, the Stoxx 600 Index shed 0.4 per cent.
US retail sales fell 0.2 per cent last month, in line with expectations. Producer prices, however, sank 1 per cent, exceeding expectations of a 0.6 per cent drop. Business inventories rose 0.4 per cent in April, surpassing forecasts for a 0.3 per cent increase.
"This points to further moderation in the pace of economic growth, which would suggest the recovery may need a helping hand from the Fed," Millan Mulraine, a senior economist at TD Securities in New York, told Reuters.
The data prompted downgrades to forecasts on the pace of economic expansion.
Economists at Goldman Sachs Group cut their tracking estimate for US second-quarter gross domestic product immediately after the retail sales report, to a 1.6 per cent gain from 1.8 per cent, according to Bloomberg News. Morgan Stanley cut its projection 0.2 percentage point, to 1.8 per cent, while Credit Suisse marked down GDP for the period to 2.2 per cent from 2.5 per cent.
In Europe, the data weren't much better. Industrial production slid for a second month in April, with output in the 17-nation euro zone falling 0.8 per cent from a month earlier, according to the European Union's statistics office.
Concern about the US and European economies bolstered the appeal of the US Treasury's US$21 billion auction of 10-year bonds. The securities yielded 1.622 per cent, compared with a forecast of 1.647 per cent in a Bloomberg survey of eight of the Fed's 21 primary dealers.
However, across the pond both Germany and Italy had to pay a higher yield at their debt sales. Germany sold about 4 billion euros of 10-year bunds today at an average yield of 1.52 per cent, up from a rate of 1.47 per cent at the last auction on May 16. Italy sold 6.5 billion euros of one-year securities at 3.972 per cent, 1.6 percentage points more than the 2.34 per cent at the previous auction on May 11.
Investors remain concerned about the June 17 elections in Greece and the details of the European rescue package for Spain, keeping the future of the euro shrouded in a cloud of uncertainty.
"We don't know what the result of the bailout will be, nor the outcome of the elections, and that uncertainty is really preventing us from rallying or from selling off," Randy Frederick, director of trading and derivatives for Charles Schwab in Austin, Texas, told Reuters. "It has become very difficult to know how the market will react to anything."
The euro rose 0.7 per cent to US$1.2588, and gained 0.4 per cent to 99.86 yen.