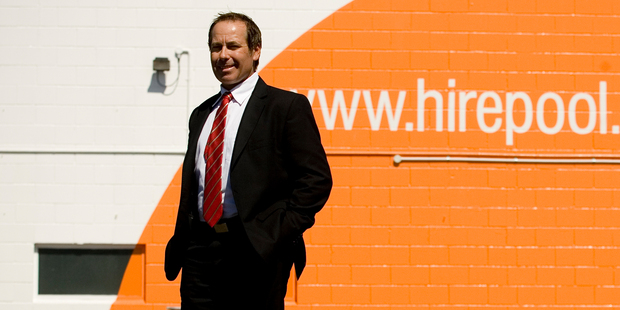 Growing Hirepool into the NZ Rental Group
- Purchased in July 2003 for $43.5m; sold in August 2006 for $172m returning 10X equity to shareholders, providing an annual compound return of 132 per cent.
- During this three year period, revenues increased 300 per cent, profit increased 120 per cent and staff numbers grew by 250 per cent.
- This was achieved by a two phase market consolidation strategy comprising roll-up / roll-out (acquiring existing SME hire businesses /developing new branches in areas where we couldn't acquire) and vertical integration of specialist divisions (access, energy, portable sanitation and, after 2006, commercial vehicles)
- Tenby Powell continued as CEO until December 2009.
- In August 2008, the holding company became the NZ Rental Group, creating New Zealand's market leader in equipment rental - a sustainable New Zealand brand.
Tenby Powell, Hunter Powell Investment Partners, strategic advisors to SME businesses and not-for-profit organisations seeking to grow:
Q: How can consolidation be the answer for small New Zealand businesses wanting to grow?
Up to 90 per cent of business failure comes down to the execution. While planning is very important, a team with execution success is critically important. We gave the Hirepool team a clear vision and they excelled in its execution.
The Hirepool model of industry consolidation - buying up independent businesses- has happened in other many industries in New Zealand. Life Pharmacy and Pharmacybrands have consolidated and Blue Star Group did it in office products in the 90s. Consolidating a fragmented industry has its challenges, it can be like herding cats, but it's very rewarding.
Q. What gets in the way of growth for small businesses?
Some SME owner / managers cite equity as the big issue. But there is no shortage of finance in this country providing the enterprise has a recognised growth path. I think NZ businesses are well above average strategically but many SMEs are below par on execution. I would far rather go with a 75 per cent finished plan and the right people, than 100 per cent detailed plan and a poor execution team.
SMEs say it is very hard to compete against large companies and often they are correct, But SMEs are best not to compete in the same way a big company does. Be manoeuvrist by being more agile; have the ability to make fast, decentralized decisions and get inside the larger company's decision making cycles.
What are the advantages of getting bigger?
Having worked for large companies such as Fletcher Challenge and Skellerup Group - I am able to compare corporate cultures with that of growing SMEs. An SME has an autonomous ability to build a tightly knit, flexible and agile team. While large companies have resources, often they are sluggish to deploy them.
SMEs within our Business Network group have talked about their inability to win Government contracts unless they are a certain size. I've won government department contracts in the past with EuroPacific Foods and it was hard fought. I am very disappointed to hear feedback that SMEs cannot win supply contracts to Government merely because of size.
How hard is it to grow to a certain size?
My sense is that it's harder to grow from small to medium than it is medium to large. It takes vision, self belief and real drive. In both cases it will only happen by providing good leadership, a positive culture, instilling a sense of belonging and giving staff a voice within the business - and executing the plan despite the plan!