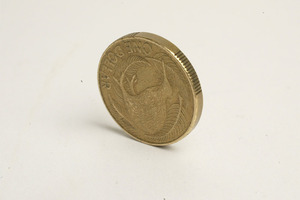 The New Zealand dollar rose more than half a US cent after the European Central Bank endorsed Spain's financial bailout even as Fitch Ratings said the nation won't meet budget-deficit goals.
The New Zealand dollar rose to 77.63 US cents just before 8am from 77.08 cents yesterday at 5pm. The trade weighted index increased to 70.65 from 70.41
Spain's bailout will boost Europe's financial stability and governments must help dismiss investors' doubts the crisis is spreading, the ECB said in its biannual Financial Stability Review.
It identified three risks to the region's stability, including sovereign vulnerabilities, a decrease in bank profitability from weaker economic growth and banking sector deleveraging. Separately, Fitch cut the rating of 18 Spanish banks after concerns about further loan deterioration.
"European policymakers are doing their best to boost sentiment but the market begs to differ," said Mike Jones, market strategists at Bank of New Zealand.
"Euro sentiment is still firmly in the doldrums."
"The kiwi is still managing to hold its own quite nicely though," Jones said. "The New Zealand dollar was actually one of the best-performing currencies overnight."
The bailout of the Spanish banking sector comes as Greece prepares to go back to the polls this weekend. The result will be closely watched by markets in the event voters elect a government that decides to leave the region's shared currency.
A raft of data kicks off in the world's largest economy, the US, on Wednesday with producer prices and retail sales, followed by the consumer price index and initial weekly jobless claims on Thursday.
There is no significant New Zealand data set for release today. Traders are waiting for the Reserve Bank's full monetary policy statement tomorrow, where Governor Alan Bollard is expected to keep the official cash rate on hold at a record low 2.5 per cent.
The New Zealand dollar rose to 62.10 euro cents from 61.78 cents and climbed to 49.84 British pence from 48.75 pence. It was little changed on 77.99 Australian cents from 77.90 cents.