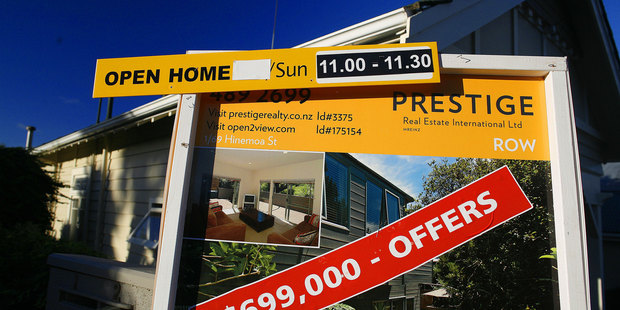 The Real Estate Institute has reported a bumper May for the New Zealand property sector, with 7,175 sales in the month, a 24.4 per cent jump from the same month last year.
The median price rose 5.4 per cent to $369,000.
The REINZ Housing Price Index - one of the better measures of the health of the property market, was up 1.7 per cent in May compared with the month before. The index recorded increases in Auckland, Christchurch, "Other North Island", "Other South Island" and Sections, with only Wellington recording a fall.
Compared with May last year, the index was up 6.4 per cent. Across New Zealand it is now 0.3 per cent higher than the previous peak recorded in November 2007 and the Auckland index is up 3.7 per cent from its July 2007 high.
The 7,175 unconditional sales in May was an increase of 26.4 per cent from April and the national median house price rose by $4,000 to $369,000, taking it to $1,000 below the record high reached in March this year.
The number of sales in Auckland climbed 28 percent to 2,792, while the median sale price rose 7.8 percent to a record $500,000 from May 2011. Canterbury sales surged 56 percent to 1,021, with the median price rising 8.8 percent $33,500.
Goldman Sachs NZ economist Philip Borkin said due to "what seemed like a large drop in April turnover" today's figures showing a May surge figures likely overstated the strength in the property market. The three month average growth in turnover was a more appropriate measure of momentum.
"But notwithstanding this, the recent falls in fixed mortgage rates and apparent lift in competitive lending behaviour from large banks (in the face of supposed funding cost pressures) could also have played a role in the recent burst of activity. The further drop in the length of time to sell a property highlights that momentum remains firm."
"We continue to look for an ongoing recovery in the nationwide housing market, although at a much more sedate pace than suggested by today's data, with structural forces of: 1) slowing population growth (outside of Auckland); 2) a labour market where improvement is slow and unlikely to be a tailwind; and 3) affordability issues and ongoing deleveraging forces (highlighted through still weak housing credit growth); expected to contain the upside."
Borkin said that with house price growth also improving, "this could possibly provide some tailwind for other sectors of the domestic economy, namely household consumption (which is consistent with our forecasts of an improvement in sequential growth)."
While the global backdrop clearly remained a risk to the New Zealand economy's prospects, for now, interest rate sensitive sectors of the economy were now responding.
This meant the prospects of any near term interest rate cuts from the Reserve Bank were unlikely. Borkin said he expected the Reserve Bank to hold monetary policy unchanged and start a gradual "tightening cycle" from the second quarter of next year.
ASB economist Jane Turner said the "underlying trend in housing market turnover is one of gradual improvement," with low interest rates likely to stoke demand.
"The RBNZ (Reserve Bank) is expecting to see around 5 percent annual house price inflation over the coming year (on the more stable quarterly QV house price index), although with momentum continuing to build the risks are house prices growth faster than this," she said.
"Sales volumes have been surprisingly strong in May, with all regions recording increases in sales over April and over May last year," said REINZ chief executive Helen O'Sullivan.
"May is typically stronger than April, ranking as the third busiest month in the year for real estate sales, but the increase is considerably stronger than normal seasonal trends would suggest," said O'Sullivan. "This is likely partly driven by good deals on interest rates during the month, and a desire by buyers to complete purchases before winter."
"The strength of the real estate market continues to be focused on Auckland and Canterbury, with Auckland reaching a new milestone with a record median price of $500,000 and Canterbury/Westland again hitting its record median price of $335,000."
Westpac Bank chief economist Dominick Stephens said that low mortgage rates during the month, a result of financial tensions offshore, had "undoubtedly given the market a shot in the arm". He said he reaffirmed his forecast for a 6 per cent rise in house prices for this year.
"These results should not surprise the RBNZ (Reserve Bank), which noted in its May Financial Stability Report noted that & 34;the housing market has started to return towards more normal levels of activity, in part spurred by lower interest rates". However, they underscore the need to lift interest rates back to more neutral levels at some point. We expect the first OCR hike in March next year."
Across New Zealand the total value of residential sales, including sections was $3.30 billion in May, compared to $2.57 billion in April, and $2.46 billion in May 2011. For the 12 months ended May 2012 the total value of residential sales was $29.56 billion.
-HERALD ONLINE/ BUSINESSDESK