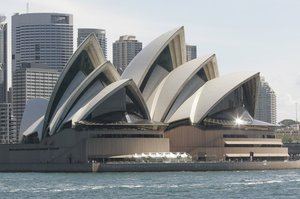 Just a day after the Reserve Bank of Australia cut its cash rate, official data showed that economic growth ran hot over the March quarter.
Yesterday's gross domestic product (GDP) data showed the nation's economy grew by 1.3 per cent in the quarter - double market expectations - which made for a 4.3 per cent gain for the March year.
It was Australia's biggest expansion since the 2008 global financial crisis.
HSBC economist Paul Bloxham said that given the poor state of the global economy, most developed countries would be happy with an annual growth rate equal to Australia's quarterly rate, let alone an annual rate of over 4 per cent.
As expected, mining investment was a large contributor, but the surprise was household consumption, which was strong despite a high saving rate, reflecting very strong growth in household income.
Growth was uneven, with weak non-mining investment and slow growth in non-mining states.
But strong household income suggested the economy is still in good shape overall.
The growth data follows Tuesday's decision by RBA to cut its official cash rate by 25 basis points to 3.5 per cent, which followed a 50-basis-point rate cut last month.
HSBC's Bloxham said the GDP data would have come as a big surprise to the RBA, but he said the bank's focus was more on the global economic conditions, which worsened since the end of the March quarter.
"The Australian economy is still in pretty good shape," he said.
"The only concern is the possibility of a more substantial global downturn."
BNZ currency strategist Mike Jones said it was ironic the Reserve Bank had eased policy just a day before the data came out showing growth ran at over 4 per cent in the first quarter.
"It [strong growth] is not normally a recipe for an easing in monetary policy," Jones said.
"It certainly calls into question the massive scale of easing that the markets had factored in for Australia and we are seeing them wind that back now."
- APNZ