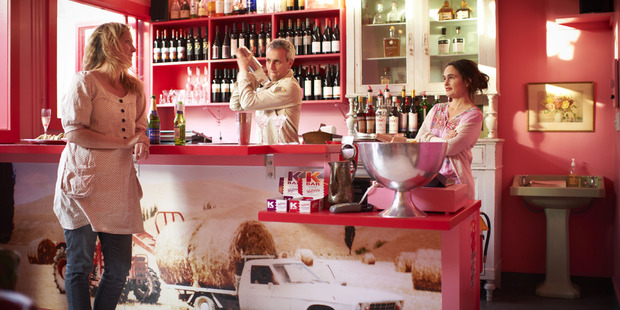 Alexandra Tylee, co-founder of Pipi Cafe, the well-known restaurant in Havelock North and the Pipi bar across the road. She has recently launched Pipi, The Cookbook published by Random House.
Tylee talks about her experiences in building a brand and her plans to expand the Pipi, the cafe brand which began in Sydney, moved to Greytown and is now in the Hawkes Bay.
When I co-owned the coffee company Fuel Espresso, I came to understand what it is that makes a brand powerful, strong and enduring. And after running the business for a while it became obvious that understanding what the brand was, and how it should look, sound, feel and be, were very important and then equally important was making sure that everything we did followed this formula. Very quickly it came to have a life of its own and as other people started working in the business and it became a part of customers' daily lives, it was no longer just an idea but a living, breathing, growing thing.
The story of Pipi
Most people who do not know me think that I am Pipi, that I have named the restaurant after myself. However this is not the case at all, Pipi is very much a personality in her own right. When I opened Pipi, I subconsciously and consciously drew on all the experience I had gained from Fuel though it is very different in that it is very much from my heart.
The first Pipi was in a leased space in the middle of a book shop in Paddington, Sydney. So it was very much the beginning of the idea, Pipi. But the magic, the lopsided crown which could only be worn by a princess in bare feet, were starting to emerge.
Then in Greytown she blossomed. When developing Pipi there it just happened instinctively, there was not a grand plan, other than that I wanted her to be magical, hopeful, fun, stimulating ,free, real, warm and non-judgmental. The pinkness makes people feel relaxed happy (well most).
I guess Pipi is a mixture of all the things that have influenced me, aesthetically and personally. Crumbling chateau meets woolshed / European tavern meets driven Hawkes Bay farmer's daughter with an arts degree.
The motivation
While making money was essential for the business to keep going, it has never been the focus, and is certainly not the motivation. Rather it was about creating a place that embodied all of the above and served exceptional, hearty food. Pipi was a little wild at times, though and so when we moved to Havelock North it was a good opportunity to fine-tune all our systems without compromising the feel.
It is about 11 years since Pipi first opened in Sydney and now there is a grand plan. Pipi has a very definite look feel and way of being. Maintaining this and the quality of our product is a daily challenge.
The cookbook
Writing the cookbook has meant focusing again on what Pipi is and what she does. It is a great record for us to have, but also means we get her out there to a wider audience. And for me it has been a wonderful way to combine a lot of my interests, cooking, design, writing and business.
Pipi has such a distinctive look, it lends itself to merchandising. We do t-shirts and if people want the pink velvet cushions with gold crowns we have in the restaurant we will get them made for them.
Next step
In my head we have opened Pipi in at least four of the major cities, Auckland, London, and Queenstown and maybe back to Sydney. I think it would certainly be possible to do, this in at least two of these cities. But with small children, if I want to be there when they wake up every morning, this is definitely not an option now. Also it seems to be more in keeping with what is happening in the world, at the moment to focus on Pipi Havelock North. There is still a lot we want to do here and the longer Pipi exists the stronger the idea or the brand will get and the more options we will have to grow it in the future.