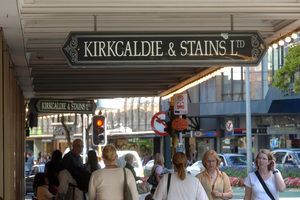 David Cushing says he has no plans to make a takeover offer for retailer Kirkcaldie & Stains right now but he won't rule it out in the future.
The Cushing family's investment arm H&G has increased its stake in the Wellington department store owner to 19.55 per cent - just below the 20 per cent threshold which would trigger a takeover.
Cushing said the stock was thinly traded and he had seized the opportunity to buy more shares in the business on Friday.
"We are happy to build up to 19.9 per cent," he said. "But we have no intention of making a bid at this stage. Of course, we would never say never."
H&G paid $2.68 a share for 33,250 shares on Thursday and a further $2.6832 a share for another 75,000 shares on Friday.
Cushing said he believed it was an overseas investor who had sold the large chunk of shares. Yesterday the shares closed unchanged at $2.80.
Cushing said he had been an investor in the business for eight or nine years and he liked the company because of its Wellington property as well as its prospects as a retailer. Kirkcaldie's property assets are worth almost twice as much as the company's market capitalisation.
Cushing said he was also considering whether to take a seat on the board and would be talking to the chairman about it in the coming weeks.