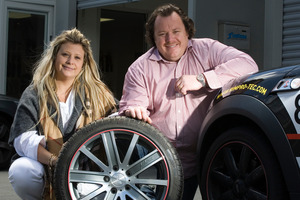 You could say that Deborah and Chris Chester are following their dream.
Their company, RimPro-Tec, exists because of a dream Chris had in which he invented a protective covering for car wheels so they wouldn't get damaged when they rubbed against the kerb.
Chris had an initial conversation with a lawyer who said he was sure there was something like it already. The British immigrants already had a fast-growing industrial flooring business, Flostone, so the idea got put on the back burner but the concept stuck with Deborah.
"I did a three-month patent research and there was nothing like it in the world. I started to do some drawings," she says.
"We ruined so many wheels doing the testing."
The company was set up by the couple in 2007 and RimPro-Tec was invented in April 2008.
It is a resilient PVC plastic strip that creates a tough buffer between car rims and kerbs, car wash rails, and drive-up window barriers. Customers can personalise their wheel with colour inserts and it is one size fits all.
The 3M acrylic foam tape-backed PVC mounting track can be applied to 13" to 22" wheels.
The product, priced at $119 and $30 to install, is guaranteed for 24 months, 24,000 miles (40,000km) or to your next tire installation. Deborah is working on three other components to enhance the invention, which has passed the NZ Transport Agency road test.
The Auckland-based entrepreneur says the RimPro-Tec appeals not just to tyre companies and new car dealerships but to car insurance, rental and taxi firms.
The invention has had worldwide appeal from early on. It is fully patented in several countries and has patents pending in 63 additional countries. RimPro-Tec was launched in November to North America at the Specialty Equipment Manufacturers Association (SEMA) trade show in Las Vegas, winning three awards at the SEMA 2011 Industry Awards including Best New Product.
"At the SEMA show we must have had the busiest stand. People were asking: "Who is the company behind this?", says Deborah.
In the United States, where the company has a licensee, the entrepreneur is working towards linking up with car manufacturers such as Chrysler and new car dealerships.
Ken Quigley, the New Zealand and Australian licensee since 2009, says the company's biggest client in New Zealand is Hyper Drive Tyres, while other recent new customers are John Andrew Ford and Jerry Clayton BMW.
Awards are helping RimPro-Tec's profile. The product recently won NZV8's New Product of the Year award and the NZ Aftermarket Industry award for the Best Local Product.
The company is looking for more distributors in Britain.
"This year I would like to see licensees or ourselves going into four other countries," says Deborah.
The business owner is in talks with licensees or distributors for Japan and Britain, and her next market this year will be South Africa and then France. Italy is likely to follow.
For now, the protective covering is manufactured in Henderson by Imagin Plastics.
"We are looking at three or four points of manufacture as we grow," says Deborah.
Because of the size of the market, there is no possible way that they will be able to keep all the manufacturing in New Zealand, says the entrepreneur.
"We are looking at manufacturing in the UK for Europe and NZ for Asia."
This year, the businesswoman expects RimPro-Tec to "absolutely fly" globally.
"There's 71 million new cars on the road every year. If we can just get 1 per cent of that ... "