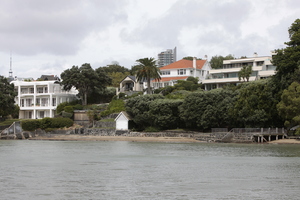 A village in the central city is how many Herne Bay residents describe their desirable and increasingly expensive inner-city suburb.
Locals love the fact that they barely have to commute to get into the city, the harbour is within walking distance and that there are bars, restaurants, cafes and specialty shops on their doorstep.
Young families are attracted to the good primary schooling in Herne Bay and its child-friendly cafes.
Jan George, of Ray White Ponsonby, says Herne Bay also has a broad housing stock in a compact neighbourhood. "There is a good variety of properties from older, established blocks of flats, beautifully restored villas and bungalows through to magnificent homes, both traditional and modern," she says. "But there are not many 'do-ups' left."
Once they buy into the area, people tend to stay - trading up or down as their life circumstances dictate - although some move across town to Remuera, Parnell, Epsom or Mt Eden to get into the double-grammar zone during their offspring's high school years.
Patrick McCarthy, of Custom Residential, says there is an emerging trend of these people returning to Herne Bay - cashed up and competing with young families for the 1400 or so homes in the area, which is putting further pressure on prices.
He has even coined an acronym for them - BBUDies: Baby Boomer Urban Downsizers.
"They are coming back en masse having sold their large homes and are looking for a more lock-up-and-leave home so they can enjoy the change of pace and
a change of life in Herne Bay," says Patrick. "A lot of them don't necessarily want villas but they are forced into them because that's all that's available."
John Harman is a classic example of this trend. He lived in Herne Bay in the 70s but sold his house to live in Remuera for his children's schooling before moving back 10 years ago because he enjoys the central, seaside location.
"Being close to the sea and on a north-facing slope, Herne Bay has got a microclimate that is two degrees warmer," John says. "I used to be a surfie in my day and I love the fact that you can see to the sea and watch the weather.
"I love walking and every morning I go for a walk under the harbour bridge and up College Hill so that I can start my day with a look at the sea and a beautiful view of the city."
John also enjoys supporting the local restaurants and businesses, something he shares with another resident, Max Fletcher, who says residents' tendency to shop and eat locally is behind the strong sense of community.
"You can walk up the road to some of the best restaurants and bars in New Zealand," Max says, citing favourites such as Andiamo, Vinnies and the Herne Bay Local.
Having all sorts of amenities within walking distance - including parks, beaches and the new Wynyard Quarter - is also important to Max, who has three young boys.
Easy motorway access, especially going to or returning from the north is something that residents appreciate.
"When we go up north it's one second and you are on the autobahn," says Max.
While Max is in the process of renovating and extending his 1880s home, Rebecca Bradley and her family have sold up and are looking for a larger home in the suburb but they are finding it tough.
"We have just had our third child so we need something bigger but there is not much stock and a lot of buyers," she says, having attended an auction of a home she thought might sell for $1.8 million that ended up fetching $2.7 million.
It wasn't always this way, as Rebecca remembers: "When I was 15 my girlfriend lived in Sentinel Rd but my mother wouldn't let me stay with her because she thought it was such a rough area."
Property prices
An entry-level property, typically a one- or two-bedroom unit, ranges in price from $500,000 to $800,000. An average home with three or four bedrooms on a site ranging in size from 400sq m to 800sq m sells for $900,000 to $1.9 million. A top-end home on 400sq to 1200sq m with up to five bedrooms would start at $2 million and might hit $5 million.
Rents
Expect steep prices if you want to rent in Herne Bay with two-bedroom homes going for $400 to $600 a week. Three-bedroom homes begin at about $500 a week but a nice one will be in the vicinity of $700. Four- and five-bedroom homes generally rent for more than $1000 a week.
Best streets
Marine Pde, Masons Ave, Bella Vista Rd, Wanganui Ave, Herne Bay Rd, Galatea Tce.
Schools in the area
Bayfield School, Ponsonby Primary, Ponsonby Intermediate, Western Springs College, Auckland Girls' Grammar.

Local attractions
Jervois Rd
Top class cafes, restaurant and bars are packed along the southern side of Jervois Rd as well as other specialty shops. It's a pleasant, sunny place to stroll and people-watch even if you don't have a particular destination in mind.
Pt Erin Pool
For those who don't have their own pool, Pt Erin Pool on Shelly Beach Rd is a great spot for the kids to cool off. As well as its 33m swimming pool, the complex has a café, dive pool, family spa, playground, barbecue area and basketball and volleyball court.
The beaches
While not many venture down here, Herne Bay has some interesting little coves and beaches, as well as a wharf and some picturesque boathouses. The water quality can be a concern if swimming but the north-facing beaches are great for sunbathing. Locking a kayak or dinghy up by the beach gives locals the chance to explore the harbour.