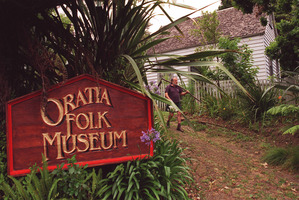 There's no secret to Oratia's growing popularity with residents of this west Auckland valley enjoying a rural lifestyle within easy commuting distance of Auckland City.
Subdividing the former orchards, vineyards and farm land in the area isn't easy because of planning laws and protection under the Waitakere Ranges Heritage Area but newly formed driveways off the area's roads are a common sight although you can't always see the homes under construction.
Downtown Auckland is half an hour's drive away - off-peak - and the improved Western Line train service makes the park-and-ride option viable for commuters. The development of the Henderson town centre means all shopping needs are close at hand.
Residents wanting to enjoy the great outdoors are close to beaches such as Piha and Karekare and the network of tracks in the Waitakere Ranges.
Decile 9 Oratia District School, a country-style school with large grounds, is also a huge attraction for young families - largely Pakeha and middle class.
Richard Cadness, of Bayleys, says, "Often people buy into Oratia just to get their kids into the school."
He says the area not only appeals to families but also to wealthy businessmen who value their privacy and can have homes set back from the road away from prying eyes.
"There are mansions being built all over the place; there is huge money going into the area but there will be properties out there that nobody knows that they exist," he says.
"I certainly think the area is being discovered."
Oratia properties vary from suburban-style homes on the Glen Eden boundary through to houses on lifestyle blocks and then homes tucked into bush-clad sites as you go further into the Waitakeres. There is also a large variety of housing, from original homesteads to architect-designed mansions. Moving villas and bungalows from the city on to a large site was also a popular option in the past.
With little more than a dairy, petrol station and a couple of fruit and vege stores, Oratia doesn't have a village centre as such where people congregate. Instead community life revolves around the school and adjoining kindergarten as well as regular community events such as picnics, the film club at the Settlers Hall and the farmers market and craft market.
The Oratia Farmers Market, in the grounds of Artisan Wines, has been a huge success and plays on Oratia's past when it was known as "the fruit bowl of Auckland". At the Saturday morning market you can buy produce, deli items and plants, as well as enjoy breakfast.
Local resident Rhonda Weekes has been a regular at the market since it opened.
"I usually meet my mum and we have a catch-up at the markets. I go down most weekends because they have things like nice cheeses, wine and salmon - everything you need for the weekend," she says. "We're at the stage now where most of the veges we eat come out of our vege garden but I like to buy fruit and any other veges locally."
Rhonda and husband Kevin moved to their 1.4ha Oratia property from Glen Eden 12 years ago because they needed more space.
"We had three boys with cars and motorbikes and we had a drainage business so we needed somewhere to park a truck and a digger," says Rhonda. "And I'm a mad gardener as well so, from Glen Eden, we always looked up to Oratia and wanted to move there."
At the time, their boys were also into swimming and surfing.
"It used to take us six minutes to get to the Henderson pool at 5am," she says. "And it was great being so close to Piha because the boys would surf and body-board there."
While Oratia doesn't have the café culture or shops of neighbouring Titirangi, it is north-facing and not as bush-clad on the lower foothills.
"The huge attraction to people is the landscape is a lot more open than in the bush in Titirangi," Richard Cadness says. "A lot of people sell up in Titirangi to buy into Oratia."
Property prices
An entry-level three-bedroom home on a site of about 600sq m would sell for around $450,000 to $500,000, while an average home of three or four bedrooms on anything from 0.4ha to 1.5ha would sell from $600,000 to $800,000. Large, top-end homes on sites of at least 2ha sell for more than $1 million, with luxury homes in the high $1 millions.
Rents
It's extremely difficult to find rentals in Oratia, with very few on the market at any time. If available, a two-bedroom home would cost $300-$400, while three- and four-bedroom homes rent for $400 to $600.
Best streets
Shaw Rd, Carter Rd, West Coast Rd, Cochran Rd.
Schools in the area
Oratia District School, Bruce McLaren Intermediate, Henderson High School.