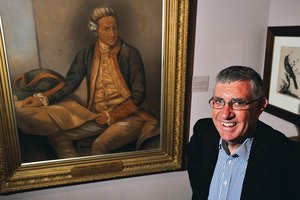 Sir Paul Callaghan, who lost a long battle with cancer in March, has received top honours at the 2012 World Class New Zealand Awards.
The world-renowned physicist was named "Supreme Winner" at the awards ceremony in Auckland last night, which celebrates "innovators and entrepreneurs who have made significant contributions to the country's growth and development".
Sir Paul, who performed groundbreaking work in the field of nanotechnology and magnetic resonance, was a founding director of the MacDiarmid Institute and received a knighthood in 2009 for his services for science.
Last year he won the Prime Minister's Science Prize and the Gunther Laukien Prize, and was named the 2011 New Zealander of the Year.
The awards last night praised Sir Paul's "exceptional leadership" as both a scientist and an administrator.
"Sir Paul's exceptional talents were an asset for New Zealand and his consistent commitment to connecting science with business to widen the country's economic growth was truly admirable," said John Stace, chairman of the judging panel.
Sir Paul was an outspoken critic of the Government's plan to grow New Zealand's economy and told the Herald before his death that New Zealand chooses to be poor.
"The choice is as simple and as stark as this: New Zealanders like to work in low-wage activities," he said last year.
"Tourism is a classic example. Or people thinking about growing wine and look it's great, it's a nice lifestyle, but frankly, the revenue per job is poor."
He contended that governments, regardless of who was in power, gave research funding to low-performing industries.
As well as more directed and focused government research and development spending, he said, more young people needed to be steered towards high-value industries.
"The model for kids at the moment is if you're bright you become a doctor or a lawyer or something like that and if you're a doctor you leave the country."
Sir Paul, a Victoria University BSc Honours and Oxford University PhD graduate, was a fellow of two royal societies and two institutes of physics.
He received seven medals and published more than 240 scientific papers and a book. He was also co-founder of Magritek, a high-tech start-up company.
Others recognised at last night's awards included Dame Kiri Te Kanawa, Sir Graeme Douglas, Ian Taylor, Peter Watson, David Kirk, Jeremy Moon, Tony Falkenstein and Malcolm Grant.