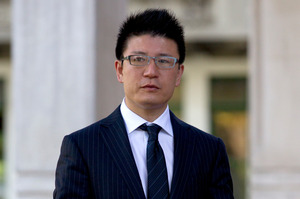 The immigration situation of a millionaire businessman at the centre of a political scandal is "highly suspicious'' but there is not enough firm evidence to convict him, a High Court judge says.
William Yan - also known as Yang Liu and Yong Ming Yan - was found not guilty last week of four charges relating to false declarations on immigration papers in 2001 and 2002 and one of using false written statements to get New Zealand citizenship.
Yan's lawyers said their client was a wealthy Chinese businessman and got others to complete his immigration forms.
Justice Timothy Brewer released the reasons for his verdicts today.
In his finding, Justice Brewer said Yan had two passports in different names with different dates of birth. He said Yan used both passports to enter Australia and the US.
"Overall, it proves a situation that is highly suspicious.''
He said Yan did not disclose that he had two identities.
"But to move from highly suspicious to proof beyond reasonable doubt of dishonest intention, more is required. In the absence of firm evidence that the accused knew of the falsity of the documents there would need to be proof of dishonest intention in using the Liu Yang identity.''
Yan - a wealthy Chinese-born immigrant - was granted New Zealand citizenship in August 2008 under the name Yang Liu, despite advice from Department of Internal Affairs' officials that he did not meet the good character test.
Labour MP Shane Jones has been stood down while the office of Auditor-General Lyn Provost investigates his decision to grant Yan citizenship on what he claims were humanitarian grounds.
Justice Brewer said the case had nothing to do with political connections and commentary.
His decision was based on the evidence presented to the court about whether false declarations had been made on documents.
Justice Brewer said he found evidence from Internal Affairs case officer Johannes Gambo credible.
Mr Gambo told the court that Yan had made an admission to him during in interview.
He said Yan told him that he used two passports to avoid Australian Immigration. "He said: 'I don't want them to know I have been there before'.''
Mr Gambo said when he expressed doubt about Yan's application for New Zealand citizenship, Yan responded: "I'm confident it will be okay, I've got a lot of support from the MPs.''
Justice Brewer said it would be "speculative'' to infer from Mr Gambo's evidence that Yan's motives were dishonest.
"There is no evidence as to why he might not wish the Australian authorities to know that he had been to Australia before.''
Justice Brewer said he found Mr Gambo's evidence credible but was unsure about the reliability of his account.
"He certainly did not like the way, as he saw it, those processes were being overridden in the accused's case.''
The Serious Fraud Office (SFO) said last week that it might yet make its own inquiry into how Yan was granted citizenship.
SFO director Adam Feeley told the Weekend Herald that his office had approached the Auditor-General to signal interest in the case.
"If they raise any concerns coming out of their inquiry, we will deal with them.''