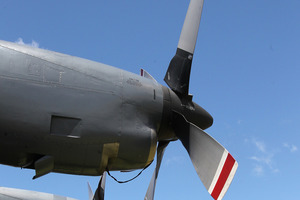 File photo / NZ Herald
A subsidiary of Air New Zealand has been fined $56,250 after one of its employees died after being sucked into a plane engine.
Safe Air Limited, which specialises in aviation maintenance and repair, was also ordered to pay reparation of $22,500 following the incident on August 8, 2011.
The Blenheim District Court heard that two employees were servicing an engine at Woodbourne Airfield. The engine being serviced was mounted on a testing site and was accessible from an elevated work platform.
With one employee at the computer in the control room, Miles Hunter, 51 went outside to check the engine. To access the right hand side he had to walk in front of the engine, past the air intake.
"When the employee maneuvered in front of the engine he wasn't holding onto the handrail around the edge of the platform and was pulled into the engine,'' said Department of Labour spokeswoman Jean Martin.
"While the company had identified airflow from an engine as a hazard, tragically the procedure they put in place to minimise this was not fully effective.
"A handrail around the edge of the platform wasn't a sufficient measure against the hazard. A proper guard to prevent anyone from getting dangerously close to the engine should have been in place, and might well have prevented this tragic accident.''
Safe Air spokeswoman Heather Deacon said she supports the findings of the court made today.
"The fact that Miles, a valued employee and colleague died at work tragically highlights that our training, systems, processes and policies were insufficient to fully protect him from this danger,'' she said.
Ms Deacon said the tragic loss of Mr Hunter was unacceptable and this led to the company's immediate guilty plea.
"Having lost a respected colleague that day, and following a full review of the causes of the accident, we set about improving our systems, training, practices and procedures to ensure such a tragedy could never occur again.''
She said the tragedy was Safe Air's first workplace fatality, "and I would certainly like it to be our last, as we continue in our efforts to continually improve the safety of the work environment for our staff''.
Mr Hunter had joined Safe Air in 2005, but had been around machines and engines his whole working life.
He had previously been a motorcycle mechanic and put himself through the Nelson Marlborough Institute of Technology (NMIT) to prepare for a career at Safe Air.
"Our thoughts continue to be with the family, friends and work colleagues of Miles and to that end we have set up a memorial scholarship through NMIT dedicated to Miles to ensure we all continue to be reminded of the learnings from this tragedy.''
At the time of the incident an Air NZ spokeswoman said the Rolls Royce C-130 Hercules turboprop engine was being tested without its propellers on a remote stand.
A turboprop engine is a combination of a jet engine with a propeller on the front, she said.
- APNZ