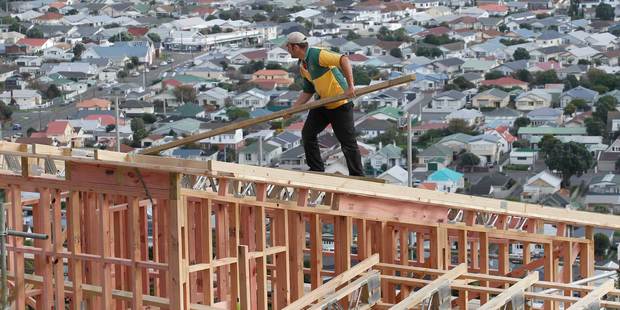 The pace of New Zealand residential building issuance slowed last month, even as demand increased for new housing in the country's biggest city, Auckland.
Building consents excluding volatile apartment figures climbed 22 per cent to 1,092 worth $334 million in April from the same month a year earlier, according to Statistics New Zealand. They were down from 1,394 consents worth $415 million in March.
Including apartments, there were 1,230 new consents worth $364 million in April.
Auckland reported the biggest rate of new issuance, with 360 new dwellings, of which 62 were apartments, compared to 259 a year earlier.
"The underlying trend in dwelling consent issuance remains one of a recovery, albeit at a gradual pace," ASB economist Christina Leung said in a note.
"This series tends to be volatile from month to month, and overall the underlying trend in residential building demand remains one of a recovery."
A tight housing supply in Auckland and delays to the Christchurch rebuild have been pushing up property prices over the past year as growing demand struggles to be met by available listings. That kept a lid on building activity, which hit a decade-low in the September quarter last year.
Some $28 million of Canterbury earthquake-related consents were issued last month, of which $18 million was in non-residential buildings. Since the first temblor on September 4 2010, more than 1,700 consents worth $381 million have been identified by the government department.
The value of non-residential building permits fell 9.4 per cent to $228 million in April, with the biggest falls in hostels and boarding houses, offices and administration buildings, and shops, restaurants and taverns.
Leung said the "consent issuance for offices and retail outlets still at relatively low levels" accounted for most of the weakness, and "the patchiness of the recovery in demand makes businesses wary about expanding their operations."
On an annual basis, new residential consents, including apartments, rose 5.4 per cent to 14,899 worth $4.14 billion, while the value of commercial construction increased 1.4 per cent to $3.7 billion.