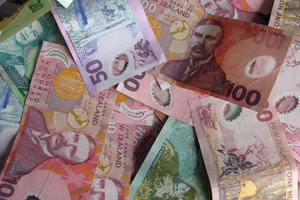 A boost to New Zealand's savings culture has been put on hold with the Budget announcement that automatic enrolment in KiwiSaver in 2014-15 is no longer possible. The expected $550 million cost of the move, attributable to the kickstart for each saver and ongoing tax credits, is simply too much for a Government pinning so much on a slimline $197 million surplus in June 2015.
The deferral is unfortunate. Auto enrolment, which would place all employees, not just the newly hired, in KiwiSaver, has been strongly recommended by the OECD. Now, it will not be considered until there are sufficient surpluses to pay for it.
This move follows steps in last year's Budget that cut tax incentives for KiwiSaver and lifted minimum employees' contributions to 3 per cent of their salary. In such circumstances, it was incumbent on the Government to offer some sort of encouragement for the scheme if all its talk about cultivating savings was not to be seen as hollow. It has achieved that to some degree by, first, introducing new disclosure rules from next April.
Second, and potentially more importantly, it has started a review of KiwiSaver default-provider arrangements to ensure they are working in the best interests of investors.
Customarily, New Zealanders are loath to change service suppliers. Shortcomings in the financial literacy of many people have added to an equation that makes KiwiSaver no different. This situation has not been helped by the difficulty of comparing fund performances. The new disclosure rules will make that far easier by requiring KiwiSaver providers to produce quarterly reports and a larger annual report for each fund they run, using a standard template. This more comprehensive and comprehensible information will much enhance investor evaluation - and put providers more on their toes.
The KiwiSaver default-provider arrangements have proved even more a bone of contention, and more damaging to the creation of a significant national savings pool that would propel economic growth. This is because they are not working in the best interests of young and young-ish KiwiSaver members. People are enrolled in one of six government-appointed "default" schemes if they do not make a choice, a situation probably occasioned by their lack of confidence or interest in financial matters. Within those default schemes, their money is, by default, put into conservative funds. These are comprised mainly of low-risk, low-return assets, such as fixed interest.
The Capital Markets Development Taskforce set up by the previous Government recommended moving the default provider settings to a more balanced set of investments across shares, bonds and cash. It is understandable that this was not done during the early years of KiwiSaver because the scheme's reputation could have been tarnished if the riskier approach had been undermined by a market convulsion. But it makes no sense now for 25-year-olds with 40 years of KiwiSaver ahead of them to be in a conservative fund. History shows that, over time, growth assets provide by far the better returns, whatever the short-term fluctuations.
The implications are far from idle. The current default arrangements will cost many young people tens of thousands of dollars in retirement funds. They are also depriving the New Zealand sharemarket of a substantial amount of local investment. People who have taken the trouble to join KiwiSaver deserve better. If the Government wishes to embellish the scheme, thereby further encouraging a savings culture, it should act quickly to change the default-provider arrangements.