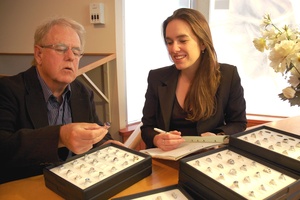 After a lifetime making, importing and selling jewellery, House of Bond's founder has built up a big clientele for a new owner.
A family-owned, Mt Eden-based jewellery business is being offered for sale as a going concern for $1,950,000 through Clive Derbyshire, corporate broker with LINK business broking in Ellerslie.
"The House of Bond is a well-established jewellery manufacturing, wholesale, importing, and exporting business with an extensive Australasian and Pacific client base, with offices in Auckland and Queensland," Derbyshire says.
"With an annual sales turnover in excess of $3 million and stock and assets of $1.5 million, the business has established a fine reputation for quality products and excellent service."
Founder and owner of the business Ian Bond is retiring after 40 years. Daughter Monique was part of a succession plan but her partner has a business and home in the United States so she's joining him there.
The business imports all its jewellery product and raw materials from various countries and manufactures product lines which are then wholesaled to various retailers throughout New Zealand, Australia and the Pacific Islands.
"They produce an extensive annual product range catalogue for their clients and have a number of large preferred suppliers," Derbyshire says.
The House of Bond is in its 40th year, including 25 years of exporting to Australia and the Pacific.
Derbyshire says the jewellery tradition has been in the Bond family for over a century, beginning in 1904 when Henry Bond entered his apprenticeship and bought a jewellery store in Taihape in 1915, still owned by Bond family members.
Ian Bond, Henry's youngest son, finished his apprenticeship but found there wasn't enough work in Taihape so started his own wholesaling business in 1972, which was the beginning of the House of Bond.
He worked from a tiny flat in Remuera and drove thousands of kilometres in a small car to build the business, which grew rapidly despite varying economic conditions.
The introduction of manufacturing at the House of Bond launched a large range of diamond rings, earrings and pendants and other stone-set jewellery. At one stage, 20 people were in the workshop and five in the office on High St in Auckland City.
When import licensing ended in New Zealand, Ian Bond introduced a range of Italian and Australian imported gold chain which was a company strength for many years.
As the market became flooded with gold chain suppliers, and House of Bond opened its Australian office, he shifted focus to diamond jewellery, and moved the head office into the Mt Eden premises of today.
For the last 15 years, House of Bond has supplied marketing catalogues and postcard promotions personalised for independent retailers and maintained its position as a leading jewellery supplier in Australasia and the Pacific.
Back in the 1980s, the product range was 90 per cent manufactured in the House of Bond workshop and a small portion imported, but the company now imports about 70 per cent of its product from Italy, Turkey, Spain, South Korea, Hong Kong, Thailand, India and the USA.
The sales team makes trips at least once a year to the Hong Kong Trade Fair, and often to another jewellery fair, to find new inspiration and select the best products.
In the past few years, the team has attended fairs in Las Vegas, Basel, Vicenza and Bangkok.
In addition to Ian and Monique, the company employs two fulltime office staff, a fulltime sales manager in Auckland, contracted workshop staff and a part-time sales person.
The sales team maintains territories all over New Zealand, generating 50 per cent of the business. Australia provides another 45 per cent of the income and the Pacific Islands five per cent.
The Australian office is run as an agency by a Kiwi family that used to have a jewellery store in Thames.
"While Ian Bond is retiring, he will be in a position to give every assistance to a new owner to ensure a smooth transition of the business," Derbyshire says.