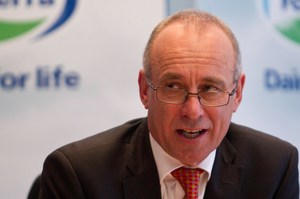 Shareholders' Council chairman Simon Couper finds his position untenable.
Fonterra's bold plan to gain a second mandate from farmer shareholders for its Trading Among Farmers scheme has taken a body blow with the resignation of the Fonterra Shareholders' Council chairman, Simon Couper.
Couper's resignation followed a majority vote by the council in support of the TAF proposal, a view which clashed with his own and made his position untenable, he said.
"I respect the council's decision," he said, but was not personally convinced that the scheme would meet the bottom line objective of securing 100 per cent ongoing farmer ownership of Fonterra in perpetuity.
"One hundred per cent is 100 per cent and in my view, we didn't get there," he said, after the council completed a due diligence process on the detail of the TAF scheme, which will go to a special shareholders' vote on June 25.
Fonterra chairman Henry van der Heyden called the vote last month, despite farmers voting in principle to support TAF two years ago.
He cited a voluble minority of opponents as the reason, saying international partners were becoming concerned as to whether farmers supported their board and senior management.
Couper declined to elaborate in detail on the reasons he believed the TAF scheme proposals failed to address farmer concerns that 100 per cent control of New Zealand's largest multi-national business be protected.
The shareholders' council represents the interests of the co-operative's 10,500 farmers.
"I've made no secret that the milk price and fund size are the key drivers," Couper said.
While the Fonterra board had "gone some way in alleviating other concerns", they had not, in his opinion, gone far enough.
"I had told shareholders in print several times about how 100 per cent ownership and control was something I stood for and believe that we needed to deliver," he said.
"I do not feel the controls are in place to deliver that."
Federated Farmers said it was saddened to see Couper had has resigned effective immediately.
"Simon is a man of honour and it speaks volumes that he stuck to his guns under what is an intense pressure cooker environment," Willy Leferink, Federated Farmers Dairy chairman said.
"What we desperately need are cold hard facts about the value proposition Trading Among Farmers offers to farmer-shareholders."
Fonterra's proposal aims to remove redemption risk and provide permanent share capital, with farmers buying and selling shares among themselves rather than with the company.
Under the proposal farmers would be able to place shares with a Fonterra Shareholders' Fund and be paid the share value for the rights to dividends and any change in market value, while retaining voting rights.
The fund would raise the money to pay farmers by selling investment units, which would be managed through the stock exchange.