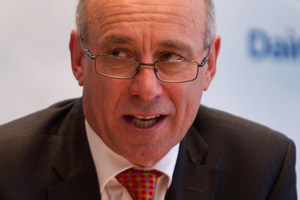 Fonterra Cooperative Group will tighten the rules for the proposed Trading Among Farmers (TAF) scheme after feedback from the Shareholders' Council and advisers to control the size of the fund and safeguard 100 per cent ownership of the world's biggest dairy exporter.
The farmer-owned cooperative yesterday agreed to the changes at a board meeting.
Shareholders are to vote again on TAF at a special meeting on June 25.
Though they approved the scheme in principal two years ago, next month's meeting gives them an opportunity to renew Fonterra's mandate for the biggest capital restructuring since it was created a decade ago.
"It has always been acknowledged that the size of the Fonterra Shareholders' Fund has to be managed carefully to ensure 100 per cent farmer control and ownership is protected," chairman Sir Henry van der Heyden said.
"Following input from Fonterra's Shareholders' Council and our due diligence advisers we will recommend tightening up some of the previously agreed thresholds on the size of the fund, as a prudent measure," Sir Henry said.
"These thresholds will be enshrined in our constitution - subject to a 75 per cent farmer shareholder vote." No details of the changes were released.
The final version of the proposals is to be mailed out to farmers at the end of this month.
Fonterra, New Zealand's biggest company, this week cut its forecast 2012 milk price and flagged lower payments in 2013 in response to a slide in global prices for dairy commodities.
The 2011/12 forecast farmgate milk price was lowered by 30c to $6.05 a kilogram, while the net profit component of its payment was unchanged in a range of 40c to 50c.
That reduces the forecast payout range to $6.45-$6.55.
The company said the outlook for 2013 was for further weakening in prices, with increased global milk production flowing through to lower international dairy prices.
As a result, Fonterra had an opening forecast for the farmgate milk price of $5.50 a kilogram and a net profit component of 45c to 55c, making a total payout of $5.95 to $6.05.