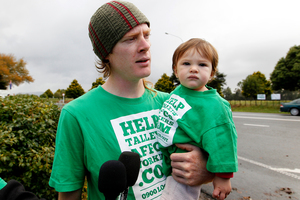 For nearly three months, Roger Kennard struggled on less than $200 a week to support his family as he stood on a picket line outside a Waikato meat processing plant.
The labourers' delegate who works on the slaughter floor at Affco's Horotiu plant, about 12km north of Hamilton, was thrilled to be going back to his job next week after being locked out of work since the end of February.
The 24-year-old has worked at the plant for eight years, and was among the first of 900 meat workers' union members to be locked out of their jobs at eight of Affco's North Island plants after negotiations over a collective employment agreement broke down.
"Most of us weren't really prepared for it at all and it really hit us quite hard early," he said.
Mr Kennard got by with food and the occasional financial assistance from extended family and his local community.
An emergency benefit of about $200 that Mr Kennard later received from Work and Income also helped, but "only just".
He began working at the meat works in Waitoa last week to help him cope financially.
"I had a stand-down for two weeks where I got nothing at all from the benefit and when you did get it it was bugger all," he said.
"I got about $200 and when you've got kids that really is bugger all, but I was probably one of the lucky ones because you have guys with mortgages that had to make repayments."
Mr Kennard said he would probably suffer some ill-feeling from his non-union work colleagues on his return to work. He's also expecting to be among many to take a hefty pay cut.
"It's more than the benefit but it's a lot less than we were making but what we were after was to get back to work under some fair working conditions.
"Still, we are very, very happy to be going back to our jobs."
Yesterday morning the New Zealand Meat Workers Union and Affco NZ reached an agreement on a new collective employment ending the industrial dispute.
Affected workers were back on the payroll yesterday and ratification meetings for the agreement will be completed by next Monday.
NZMWU president Mike Nahu said the settlement retained protection of wages and employment security.
Company director Andrew Talley also welcomed the settlement.
"I am looking forward to spending additional time around the meat plants and working with the union and its members to continue to improve these meat plants, making them the best performing in the country," he said.