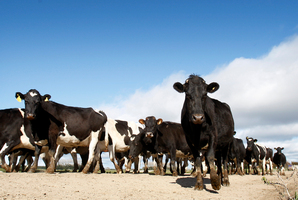 The pitch by Sir Michael Fay's consortium for the Crafar farms held up official decisions on other foreign investments, with numbers released more than halving this year.
A Government official indicated one controversial, time-consuming deal caused huge delays in processing other applications.
The Overseas Investment Office has released just 14 decisions this year compared with 47 in the first three months of last year, but office manager Annelies McClure said 64 applications were now being processed.
McClure cited the farm scrap for the holdup but said the big drop was not evidence of foreigners losing their appetite for New Zealand assets.
"There hasn't been a reduction in the number of applications," she said.
"Less decisions have been made so far this year as OIO staff were occupied by the judicial review proceedings launched by the Crafar Farms Independent Purchaser Group, following the ministers' first decision to grant consent to the purchase of the Crafar farms and the High Court's decision to refer the decision back to ministers to reconsider."
Fay's consortium fought against the Chinese application, but last month Shanghai Pengxin's bid to buy the 16 Central North Island dairy farms was approved by Land Information Minister Maurice Williamson and Associate Finance Minister Jonathan Coleman.
McClure said OIO staff were now able to get on with assessing applications. "Our assessment timeframes were also affected as applicants - including Milk New Zealand - were required to revise their applications so that the OIO could apply the new test prescribed by the High Court for assessing the benefits of a proposed investment to New Zealand," McClure said.
The number of applications received depended on the level of interest from overseas investors, she said.
"Therefore, it's not possible for us to predict whether there will be a change in the number of applications we might receive."
Until last June, the office had an internal target of making decisions on high-quality, straightforward applications within 50 working days from registration.
"As from July 1, 2011, the OIO changed its internal targets," she said. "Timeframes for application types are now categorised according to complexity."
The office might take 70 working days on applications for foreigners to buy foreshore, or the bed of a river or lake.
Murray Horton, of the Campaign Against Foreign Control of Aotearoa, blamed understaffing for the holdups.
"The OIO is under-resourced and things get held up when they actually have to do some work, rather than rubberstamping, as a result of something like the Crafar farms case," he said.
Horton said one reason why there were fewer applications and decisions was because of previous increases in the threshold for approval contained in the 2005 Overseas Investment Act, to the current $100 million, with a higher threshold still for Australian companies.
"So, if a transnational corporation wants to buy a New Zealand company for $99,999,999, it doesn't need any OIO approval," he said.
"You can still buy plenty in this country for less than $100 million.
"It's just that those transactions have now got nothing to do with the OIO."
OIO DECISIONS
2011
* January: 6
* February: 17
* March: 24
* Gross value of deals: $1.2b
2012
* January: 5
* February 4
* March: 6
* Gross value of deals: $813m
(Source: Overseas Investment Office)