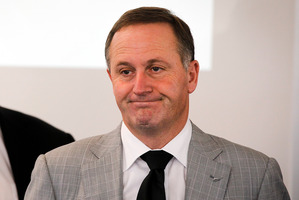 Another global downturn brought on by a meltdown in Europe could force the Government to abandon its goal of returning the country to surplus in three years, Prime Minister John Key indicated yesterday.
But he said the Budget on Thursday would show the Government was on target to post a small surplus in the 2014-15 year.
And he hinted that deficit for the current financial year would be well under the $12 billion predicted in the last official forecast, in February.
"It might one of the surprises in the Budget."
Mr Key said the Greek banking system was under considerable pressure and concerns were growing over Spanish banks, which were downgraded last week.
In its main Budget forecasts, the Treasury had factored in a good deal of weakness and volatility in Europe, including a sharp recession in the Euro area.
"However it is true to say that the risk of something worse happening in Europe has increased."
Asked if the Government would be more likely to cut spending or extend the surplus target date, Mr Key said he did not think the Government would change its spending patterns to a large degree in a serious downtown.
"What would be more than likely to happen is there'd be an economic slowdown which would slow down the tax revenue we've got and we might bridge that for a bit longer."
He would not be happy to extend the surplus target if that was the result of a significant global slowdown.
"The last thing we'd want to do is abandon that target unless we really had to."
Mr Key said the increased risk in Europe reinforced the Government's fiscal strategy.
If financial markets tightened, it would be hugely important that New Zealand was seen as a good risk.
"I know there are other political parties already talking about spending more money that this country doesn't have. All I can tell you is in the end, if you spend more than you earn, it's called Greece."
Mr Key rejected a call yesterday by Labour leader David Shearer for a cross-party approach to superannuation.
He said he saw no need for a joint approach because all parties had laid out clear policies in last year's election campaign.
Voters had rejected Labour's policy to raise the superannuation age to 67 by 2033.
Mr Shearer said National had failed to provide the economic leadership needed to take New Zealand forward.
Its economic plan in the Budget would be missing any thought about how New Zealand would meet the future costs of superannuation as more people reached retirement.
"Labour will be straight - the status quo is unsustainable. We need a genuine cross-party solution that ensures a fair outcome for everyone."