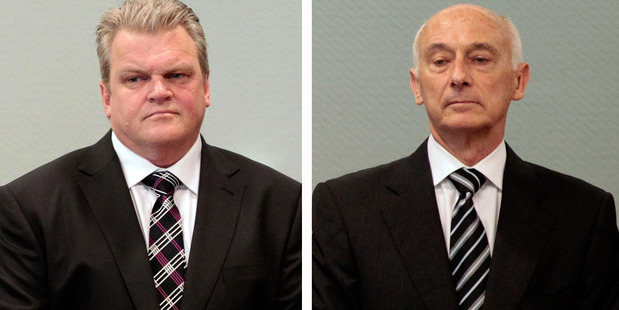 Bridgecorp's former financial controller Rob Roest will join the failed finance company's boss Rod Petricevic behind bars - but another former director escaped prison when the men were sentenced at the High Court in Auckland this morning.
Roest was jailed for six years and six months and Peter Steigrad was ordered to complete nine months of home detention, 200 hours of community work and ordered to pay $350,000 in reparations.
Like Petricevic, Roest was found guilty of all 10 of the Securities Act charges he faced. Steigrad was convicted of six.
Petricevic and Roest were also found to have acted dishonestly and guilty of knowingly making false statements in an effort to induce investors to pour money into Bridgecorp.
The latter charges relate to statements in Bridgecorp's offer documents that the company had never missed a payment of interest or principal to investors.
According to evidence tabled in their four-month-long High Court trial, Bridgecorp began missing payments to investors on February 7, 2007. The company collapsed about five months later owing $459 million to 14,500 investors.
Petricevic maintained in court he did not know of the first set of missed payments until he read about it in the newspaper.
But, in what became something of a blame game, Roest said he kept Petricevic informed of developments concerning money going to investors on time.
Petricevic denied this and his lawyer, Charles Cato suggested Roest may have a motive to implicate his fellow director, saying it was ``human nature'' for a co-accused to attempt to "mitigate their position'' when standing trial.
But Justice Geoffrey Venning ruled that Roest's evidence was reliable.
"Given the situation Bridgecorp faced at the time, it is logical that Mr Roest and Mr Petricevic would discuss Bridgecorp's cash flow and its commitments to investors ... Mr Roest had nothing to gain and no reason to withhold information regarding the missed payments from Mr Petricevic,'' Justice Venning said.
Petricevic was sentenced last month to six and a half years in prison.
Another former director Gary Urwin, who pleaded guilty to 10 charges of misleading investors, was sentenced last month to two years in prison. His lawyer David Reece told APNZ earlier this week that his client would not be appealing the sentence.
- APNZ