NZ pair are sending new world technology to old world winegrowers.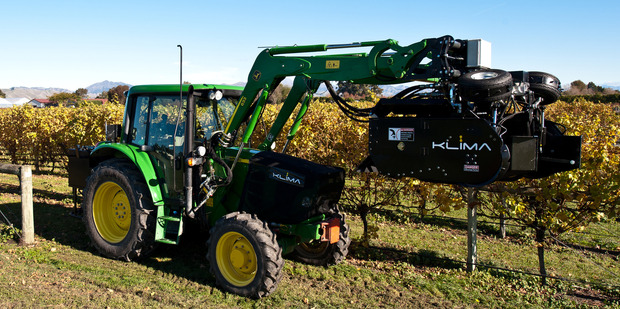 Every modern household needs a second husband - a practical man who can take care of any mechanical or structural failure around the home that is beyond the ken of the actual husband.
My household would choose North Canterbury's Nigel George, the man who invented the George log delimber, which changed the way logs were processed in the 1990s.
Here's what his business partner, Marcus Wickham, says: "Nigel is a born inventor; his brain is incredible. He's a very understated guy, a Kiwi farmer whose [ideal pastime] is solving problems. If they're financial or people problems, he's not interested. But if it's a practical issue, he loves to solve it - that's what he does."
Wickham, a farmer and viticulturist who managed the Mudhouse Wine Group's vineyards, has worked with his friend for more than 10 years and they have now formed a company to market George's latest invention, the Klima cane pruner.
Klima, which means vine in Greek, has mechanised a system of pruning that has always been done by hand, and one which vintners believed could never be mechanised.
In viticulture, there are two types of pruning: spur pruning, which is partially mechanised, and cane pruning. If wine makers can get away with it, they spur prune because it is cheaper and faster.
But grape varieties and climate means that some countries - New Zealand, France, Germany, Italy and Austria - must cane prune because spur pruning reduces the yield, making the process uneconomic.
Each year winemakers need to remove more than 90 per cent of the branches but "you want to extract them without damaging the wires and the wires were always in the way, so [cane pruning has] always been done manually," says Wickham.
Wickham sat down with George "and we came up with this crazy idea that we would use the wires [to assist the pruning] rather than have them as our worst enemy".
"The wires are usually attached to the post with a staple - an immovable object," he explains. "So we took the staple out and replaced it with a clip that made those wires detachable. We detach the wires and make a select few cuts to the vines, our machine lifts up the wires and with the wires come all the vines and our machine strips all those wires clean and mulches up all the trash and puts it back on the vineyard floor and leaves the remaining vine there beautifully ready to be wrapped for next season."
The Klima worked a treat on Mudhouse vineyards but Wickham and George were still essentially farmers with a piece of valuable intellectual property, but no idea how to take it to market.
They engaged Auckland company EverEdge IP to advise them on the process and Mudhouse came on board as the third shareholder. Then they jumped on a plane to France.
"We went through the presentation, clicked 'play' on the video and suddenly there was a lot of animation and I'm pretty sure there were a few swear words in French," Wickham remembers.
In the end, they licensed the machine to German manufacturer Ero Weinbau, which this year entered the invention in viticulture's Oscar awards, the Sitevi trade show in Montpellier, France.
To the delight of Ero and the pair, they won the gold medal: "The national director of viticulture in France got up at the show and announced that, in his view, there's going to be two types of pruning in the future - spur pruning, mechanised now for 20 years, and cane pruning using this machine, which is huge," Wickham says.
Sales potential for a company that is "revenue neutral" after four years is huge. About 50 machines are deployed on New Zealand vineyards, between 30 per cent and 50 per cent of the market.
Yet the combined acreage of New Zealand and Australian vineyards is 180,000ha. France has 1 million ha, as do Italy and Spain. A further 1.5 million ha or so is shared among Germany, Austria, Russia, Romania, Bulgaria and Hungary.
"Europe is our focus," says Wickham, but notes "there's a lot of technical challenges in Europe that we're only discovering now and we're confident we can overcome them."
In its first season, 25 machines have been sold to vineyards in France, Italy, Germany and Austria and Wickham believes it will take until 2015 for the mass market to see the benefits on the vineyards of Klima's early adopters.
Says Wickham, "there's nothing better than seeing a fellow grape grower with a big smile on their face with our machine going down the row and knowing we're saving them money, complexity and time."