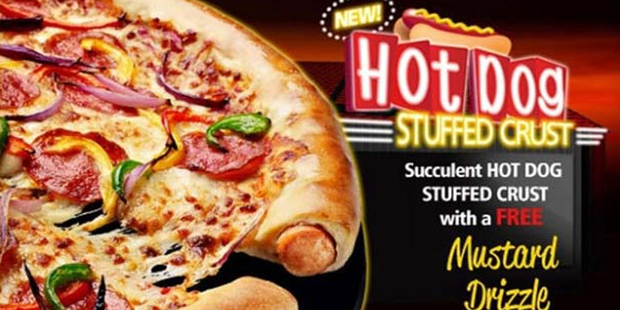 Fancy a pizza with a sausage-crammed crust, drizzled in mustard?
If the answer's yes, then you're bang out of luck unless you've got a trip to Britain planned.
Pizza Hut in the UK recently added a Hot Dog Stuffed Crust option to its menu, but Restaurant Brands, which runs the chain in New Zealand, says it has no plans to offer the product here.
Given the success of KFC's Double Down bunless chicken burger promotion in 2011, you'd think the company would be keen to release something similarly quirky this year.
But Restaurant Brands chief executive Russell Creedy didn't think the hot dog stuffed crust, which comes with a "free mustard drizzle", would be a winner in New Zealand.
And he said the ingredient costs could also be too high to suit what is a very discount-focused quick service pizza market in this country.
Pizza Hut has $4.90 pizzas on its menu every day, while Domino's is selling them for $4.99 on its "cheaper Tuesdays".
Restaurant Brands shares closed up 3c at $2.14 last night.
BLIND SIDED
The Commerce Commission spooked sharemarket investors for the second time in two weeks on Wednesday, revealing a new investigation into Sky Television Network over concerns its contracts with internet service providers may be hindering competition.
The news was at the bottom of a media release about Sky's Igloo venture with TVNZ in which the commission found no competition issues.
It sent shares in Sky TV tumbling 7 per cent from $5.45 to $5.07. Yesterday they regained some ground to close on $5.20.
The reaction follows that seen by Chorus investors on May 4 when the commission announced its draft review of the unbundled copper local loop.
Shares plummeted 13 per cent to $3.06 shortly after the release. They have since bounced back but have still to recover the full drop. Chorus shares yesterday closed up 1c on $3.18.
In both cases the commission has created uncertainty over the future impacts on the two companies leaving shareholders to bail out.
Stock Takes can't help wondering if the news could have been delivered in a better way to help investors better understand the implications.
BIG PLAYER
The Accident Compensation Corporation has become a substantial shareholder in two NZX-listed companies in the past week.
Notices out this week reveal the ACC now owns 5.62 per cent of jeweller Michael Hill International and 5.06 per cent of Blis Technologies - the makers of probiotic mouth and throat care products.
Its Blis Technologies stake was boosted after the company converted its preference shares into ordinary shares.
ACC has been building its stake in Michael Hill since last October.
It initially purchased 400,000 shares on October 12 and between then and May 8 it has bought a further 2.3 million shares.
Michael Hill's share price has also crept up steadily during that time. In October it was trading at 78c. Yesterday it closed on $1.06.
LOW DOWN
The yield on New Zealand's 10-year Government Bonds hit new lows this week as more bad news poured out of Europe pushing investors to look for higher yielding safe haven bonds.
At 3.65 per cent the yield looks pretty unattractive but compared to the US Government bond yields at 1.76 per cent they aren't so bad.
You only have to look at the New Zealand Debt Management Office's recent bond offer to see how strong demand is. Last month, it got about $2.9 billion of bids for the $900 million of government bonds sold in a tender.
But Spicers Wealth Management's Jeff Matthews said he doubted any New Zealand retail investors would be buying the bonds when they could get 4.3 per cent in the bank on-call.
The demand is mostly likely being driven by institutional investment funds.
Matthews said investors would be crazy to lock their money into any bonds for more than two to three years at the moment as official cash rates would likely go up in the next few years as government stimulus packages began to kick in and inflation rose.
Investors can get pretty good yields on New Zealand shares at the moment but just have to be prepared to see the value of their capital go up and down with share price volatility.
HAPPY BOSS
Briscoe Group boss Rod Duke will surely be smiling all the way to the bank next month after the retailer yesterday revealed a special 10c per share dividend.
Duke owns 78 per cent of the company and will receive around $16.7 million of the $21 million due to be paid out to investors on June 28. Duke is worth his money. The retailer has been one of the stand-out performers in what has been a very tough market.
Briscoe shares have risen 14 per cent this year and yesterday closed up 12c on $1.68.
CASINO BUYER
A report by Standard & Poor's on New Zealand and Australia's gaming industry is predicting modest growth in the sector but says mergers and acquisitions are back on the agenda.
"We expect the Australia and New Zealand gaming markets to grow in modest low single digits in the next 12 months," the report stated.
It also said that a 10 per cent acquisition by Australian operator Crown in Echo Entertainment Group in February had brought M&A activity back to the sector.
The report noted that SkyCity Entertainment Group had completed several refurbishments, which, together with the Rugby World Cup, contributed to strong revenue and earnings growth during the six months ended December 2011.
However, it failed to make any mention of the recent furore over Government plans to allow SkyCity to increase its gaming machines in exchange for building a new convention centre.
Shares in SkyCity closed down 3c on $3.56 yesterday.