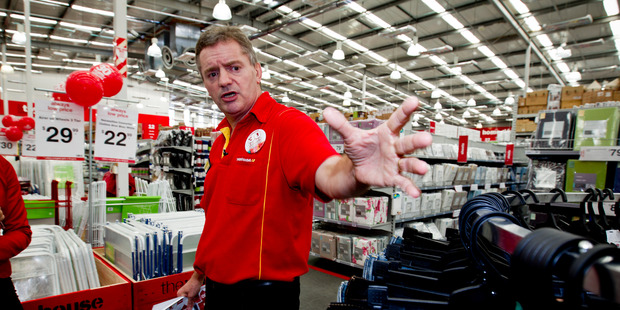 Big box retailer The Warehouse is canning self-service checkouts, which its chief executive says work well in supermarkets but are less compatible with general merchandise.
The company - which is in the midst of a $130 million revamp of its stores that aims to increase the Red Sheds' appeal to shoppers and claw back market share - introduced the technology about three years ago, installing it in six sites, including those at the Albany Mega Centre and Auckland's Westfield Downtown shopping centre.
The terminals have already been taken out of the Albany store, and chief executive Mark Powell said self-service would be removed from all of the sites it was offered in.
"I can see why it works for New World, but it didn't really work for us," said Powell, who took reporters on a tour of the refurbished Albany store yesterday.
He said some of the larger items sold at The Warehouse, such as furniture, were not compatible with self-service.
And many of its products had security tags attached, which meant a staff member had to remove the tags when customers paid for the items at self-service checkouts.
Powell said the question of whether self-service had brought an increase in shoplifting was "a point of internal dispute" within the company.
"Some people would argue the numbers show it does, some would argue the other way," he said.
The Warehouse's stores in Albany, Te Rapa, Taupo, Te Awamutu and Riccarton have already been refitted as part of the refurbishment programme, which will revamp more than 60 stores around the country over five years.
During yesterday's tour, Powell said many stores had not been touched since they opened, in some cases well over a decade ago.
Announcing the company's full-year result last September, chairman Graham Evans said its retail sites, as a result of under-investment, had become "tired and unattractive" and the company had failed to meet its customers' demands.
The company's annual net profit has fallen from $115 million in 2007 - when its shares were trading above $6, compared with the $2.68 they closed at last night - to $77.8 million last year.
The Albany store's $1 million facelift took place over eight weeks and the work was done at night so the business could continue trading.
The result is a well-lit, tidy and modern store that appears slightly more upmarket than the old-style Warehouse sites.
"It's not cheap and nasty but it is discount and contemporary," Powell said of the Albany store. The layout includes the establishment of zones - such as a beauty zone, pet zone and baby zone - where related products can be found. Signs within the store have been improved.
Powell said The Warehouse was also placing increased focus on quality, and had removed 30 products - out of a total offering of about 60,000 - from its stores over the last nine months.
To improve service, the company will employ 300 additional retail staff and says it is developing a "customer-led, store-focused and people-centred culture".
The Warehouse, which was founded by Sir Stephen Tindall in 1982, is celebrating its 30th anniversary this month.