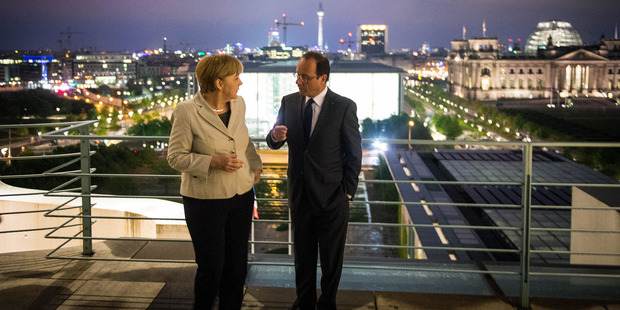 Like strangers forced into an arranged marriage but hoping it will bring true love, Chancellor Angela Merkel of Germany and French President Francois Hollande put on a show of goodwill and mutual respect at a crisis summit staged just hours after Hollande took office.
In Berlin yesterday, as the markets vetted every word for signs of discord, the conservative German and Socialist Frenchman exchanged solemn European vows but grappled for the warmth and spontaneity that comes with a long and natural relationship.
They promised political support for Greece's battle to stay in the eurozone and set down a timetable for a joint strategy on growth, but failed to say how they would overcome their differences.
The meeting came after Hollande took office in Paris to a 21-gun salute, named his prime minister and then rushed to Berlin for his first meeting with the world's most powerful woman, his opposite number in the Franco-German alliance.
FRENCH PRIME MINISTER ANNOUNCES NEW CABINET
Hollande's new French Socialist Prime Minister Jean-Marc Ayrault has completed his first task on the job and named the new Cabinet.
Laurent Fabius, a veteran Socialist and former prime minister, is to be the new foreign minister, replacing conservative Alain Juppe.
Pierre Moscovici, President Francois Hollande's campaign director and a former minister for European affairs, will become finance minister.
Jean-Yves Le Drian, a friend of Hollande's, will head up the Defense Ministry.
MERKOZY FISCAL PACT FUTURE IS CLOUDED
On May 7, Hollande beat Nicolas Sarkozy, who had partnered Merkel in a tough initiative to force European governments to curb budget deficits and excess debt.
Their deal, the fiscal pact, has been accepted by 25 out of the 27 countries of the European Union.
But its future is now clouded after Hollande, while on the campaign trail, said he wanted to rewrite it so that it incorporates measures to stimulate growth. Hollande has helped swing the mood in Europe against austerity, which Merkel, as well as Britain's David Cameron, are preaching.
Looking guarded as he stood alongside Merkel at a press conference, Hollande spelled out again and again his faith in the EU and in the Franco-German partnership, which shortly celebrates its 50th anniversary.
Both he and Merkel voiced support for growth. But they did not go into specifics, say whether the hard-fought fiscal pact would be rewritten or if the growth measures could be presented separately.
Merkel has bluntly insisted that the treaty remain unchanged. And she has warned against Keynesian-style steps whereby governments simply borrow more to revive their economies temporarily rather than reform labour markets or unaffordable pension schemes.
The goal was to flesh out a joint programme in the coming weeks, in time for an EU summit on June 29-30, the two leaders said.
"On growth, the method that we agreed is putting all ideas and all proposals on the table and seeing what legal means exist to put them into effect," said Hollande.
Merkel said: "We agreed that first of all there is an obligation to work together. We found common ground and the beginnings of differing points of views, but that can be enriching, too."
At several times in the past half-century, the leaders of France and Germany have hailed from different parts of the political spectrum or are clear opposites in character. But never have personalities and political preferences been so closely monitored. One mis-step could trigger Greece's departure from the eurozone, unleashing a crisis of confidence that would place Spain or even Italy next in line. It would also force up borrowing costs for France.
The scrutiny extended to body language. Arriving in Berlin, Hollande shook hands with Merkel - a change from the kisses on the cheek she exchanged with Sarkozy - and she rather stiffly had to guide him, a newcomer to protocol, around the red-carpet track.
Even so, analysts gave the two leaders, both of them cautious and consensus-seeking in character, high marks for their show.
The summit crowned a long, intense day for Hollande, whose plane was struck by lightning on the way to Berlin, forcing him to return to Paris and swap jets. Merkel said wryly that, by overcoming such ill luck, "maybe this was a good omen".
Hans Stark, a German researcher at the IFRI think-tank in Paris, cautioned it would take time for Merkel and Hollande to get into their stride.
"Every time that there is a new presidential election [in France] or a new German chancellor, time has always been needed to really build a relationship of trust or friendship. It's not something that is turned on like a switch."
Complicating things, though, are elections to France's National Assembly on June 11 and 18, which make it harder for Hollande to compromise.
Tobias Blattner, an economist at Daiwa Capital Markets who spent seven years as a monetary policy strategist at the European Central Bank, told the Herald: "Hollande will have to back down on some of the things he has been saying, such as wanting to say he wants the European Central Bank to lend directly to governments. That is really a non-starter for Germans. But otherwise, I think there is less controversy between the two than we might think."
- additional reporting AP