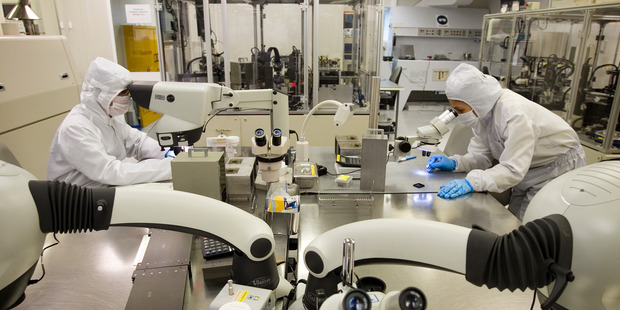 Rakon, the local components maker which has been struggling with tepid global demand and a strong New Zealand dollar, is expected to post a sharp drop in earnings when it reports its full-year result on Thursday.
In September the Mt Wellington-based firm announced it would lose roughly $20 million in cash earnings in the year to March 31 because of the dollar's strength against the British and United States currencies.
The company, which manufactures crystal oscillators used in telecommunications infrastructure, smartphones and GPS devices, reported a net loss of $259,000 in its interim result in November.
At that time Rakon said full-year earnings before interest, tax, depreciation and amortisation (ebitda) would be $14 million to $18 million, which would be a reduction of up to 43 per cent on ebitda a year earlier.
Craigs Investment Partners is forecasting full-year "look through" ebitda of $15.7 million and a skinny net profit of $210,000, which would be a 97 per cent drop on the $8.4 million profit reported in the previous year.
Mark Lister, head of private wealth research at Craigs Investment Partners, said the "look through" forecast consolidated earnings contributions from Rakon's joint ventures.
In a research note last month Craigs Investment Partners said it had downgraded its full-year ebitda forecast to reflect a weaker-than-expected telecommunications market and the impact on volumes from Rakon's operations in France and Britain.
And the company's Chinese manufacturing facility in Chengdu, which began commercial production in October, was expected to post a $1.5 million full-year loss, the brokerage said.
Craigs has forecast improved profits and earnings in the current and 2014 financial years, but Lister said the firm had "slightly conservative" expectations for Rakon's full-year result this week.
"We could be proven wrong, but it is a company that in the past has disappointed the market on more than one occasion," he said. "It's a hard business to forecast ... it has a lot of moving parts and a lot of things that can affect them, both good and bad."
Rakon shares, which have shed more than 50 per cent of their value over the past year, closed at 55c on Friday.