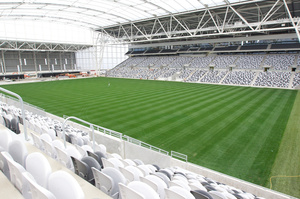 The final cost of Dunedin's Forsyth Barr Stadium has risen to $224 million, after independent auditors uncovered a budget blow-out of more than $8 million, it has been confirmed.
The findings showed the stadium's capital cost had risen by $8.4 million, from $198 million to $206.4 million, with interest of $18 million on top driving the final cost on the facility to $224.4 million.
The figures were revealed at a media conference late this morning, fronted by Dunedin Mayor Dave Cull, Dunedin City Council chief executive Paul Orders and members of the PricewaterhouseCoopers review team.
The unexpected costs incurred by the council included an extra $1 million for its share of the University Plaza, another $900,000 extra for a shared wall inside the University Plaza building, and $2 million more in administration costs.
The overspend also included an extra $3.7 million for the stadium's catering fit-out, which was unbudgeted and not formally approved by the council.
The $8.4 million overspend meant costs exceeded budgets by 4.2%.
The PWC review did not seek to apportion blame, but findings had been passed to council chief executive Paul Orders, who told reporters he would study them "coolly and calmly''.
The results would also be presented to councillors at the next full council meeting on Monday.