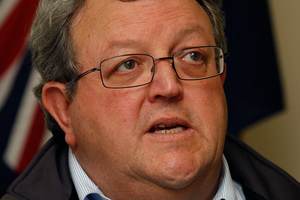 Auckland's main bus operator could lose at least $70 million in annual operating subsidies if it fails by November to install machines capable of reading new electronic transport tickets.
Transport Minister Gerry Brownlee said last night that although there was no suggestion yet that NZ Bus would miss that deadline, the firm and its sister company, Snapper Services, would know the consequences of being in breach of contract by failing to meet it.
Asked what those consequences would be, he told the Herald: "They're off the run."
He would not be explicit about the potential financial cost to Infratil, parent company of both Snapper and NZ Bus, but as operator of about half of Auckland public transport services it receives at least $70 million a year in subsidies from taxpayers and ratepayers.
The minister was speaking after receiving a briefing from the Government's Transport Agency yesterday afternoon about progress on Auckland's $98 million public transport ticket - the Hop card.
Although the agency is paying $56 million of the cost, in expectation of gaining a prototype "back office" system for replicating the card in other cities, Auckland ratepayers are up for $42 million.
After French technology giant Thales won the main contract for providing the ticketing system, Snapper gained approval to install its own machines on NZ Bus vehicles on an assurance that these would be compatible with the larger scheme.
That is so public transport passengers can use the same cards to travel "seamlessly" on most Auckland buses, as well as trains and ferries.
But in January, Auckland Transport announced that more than 100,000 of the first version of the Hop cards - now usable only on the NZ Bus services - would have to be replaced as they were incompatible with the final scheme.
Thales has since indicated that it has completed its contract, and told its staff in an email obtained by the Herald that a failure by Snapper "to deliver a functional bus system that meets the ratified standard has caused delays to project go-live".
Although the deadline has been progressively pushed out to November 30, Auckland Transport chief executive David Warburton says he has no reason to doubt that Snapper will be ready to plug into the integrated system by that date.
But neither Snapper nor NZ Bus is returning Herald calls, and an assistant to bus company chief executive Zane Fulljames said yesterday that he had no comment.
Mr Brownlee said he was "quite happy" there was a process in place to achieve integrated ticketing "and all the contracted parties just need to understand that we're not backing away from that".
Asked what would happen if NZ Bus refused to replace its existing machine readers with equipment compatible with the final system, he said: "They will be in breach of their contract and we will look at getting someone else to pick those contracts up."
Mr Brownlee said he could not confirm a claim by Labour transport spokesman Phil Twyford that National put Auckland in a difficult situation by pushing for Snapper's card to be introduced to the NZ Bus fleet, as he was not minister at the time.
But Auckland Council transport chairman Mike Lee said Infratil lobbied the Government to change specifications to allow the card to be introduced ahead of the wider scheme.
He said that made it the Government's responsibility to "hold the line" and ensure a successful roll-out of an integrated transport ticket.